Eric Karabell is the Mike Trout of fantasy baseball, and I'm like the Buddy Biancalana. He knows more about the shifting tides of relative fantasy value than I do, he knows more about drafting trends, and heck, he probably knows more about life in general -- especially now that he has experienced a championship with his Eagles, who bulldozed my Vikings along the way.
To channel Happy Gilmore: He's smart, I'm stupid; I'm usually wrong, he's right; he's the best, I'm the worst.
That all said ... one of my favorite exercises every year is to go through his fantasy rankings of the Top 300 players and try to pick out what the Spawn of Moneyball might refer to as market inefficiencies -- players who seem to be too high or too low.
Here's a list of nine:
Manny Machado, Baltimore Orioles: No. 9 -- Too low
One of Machado's peers mentioned this spring that he thinks Machado might be the only player with more pure baseball talent than Trout, because he possesses so many high-end skills. His greatest struggle, evaluators and some players believe, is maintaining focus, of grinding through each plate appearance of each game. Last year, Machado had a .268 on-base percentage and .666 OPS in road games, and those numbers simply do not make sense for a player who can be really great.
But the Orioles moved him to shortstop for this season, partly to keep him more engaged through the responsibilities required of a shortstop, and with his free agency looming at the end of this season, Machado looks like a completely different player this spring -- locked in, completely attuned pitch to pitch. What we might see in 2018 is the best of Manny Machado in his career -- especially because wherever he lands next winter, he probably will not play in a ballpark nearly as hitter-friendly as Camden Yards.
Aaron Judge, New York Yankees: No. 20 -- Too low
Sure, it's possible and maybe even probable he will regress from his tremendous rookie season, and his second-half slump exposed him as a young player who is still learning.
But that's the thing about Judge: He will learn. He is smart, diligent and has a great work ethic, and his greatest skill at the plate might be his ability to assess the strike zone; he will take walks. That will always give him a chance to fight his way out of struggles. At worst, he'll have an OBP in the range of .360, and as he applies the knowledge he has collected, it's possible we haven't seen the best of Judge.
Zack Greinke, Arizona Diamondbacks: No. 41 -- Too high
Derek Jeter once said, in so many words, that when you struggle before you turn 30, it's explained away as a slump. But after your 30th birthday, everybody wonders if you're too old. This is where we are with the 34-year-old Greinke, who has had a remarkable career of more than 2,600 innings, in the regular season and postseason. His velocity is down again this spring, and yes, it's possible that like last year, he'll build arm strength and work his way back. But he appeared completely out of gas at the end of last season, and the early radar readings this year are much less than encouraging.
Eventually, every player regresses, and with pitchers such as Jacob deGrom, Luis Severino, Noah Syndergaard, Robbie Ray and Carlos Martinez ranked behind Greinke, I'd pass on him and take somebody else. Eventually, Derek Jeter (and the rest of us) do get old.
Gary Sanchez, Yankees: No. 59 -- Too low
He's off to a fresh start under a new manager after being stung by the criticism from Joe Girardi last year, and whether you feel Girardi was justified in what he said, Sanchez does seem to have moved forward and improved.
He has had a huge spring, is viewed by his teammates as arguably the Yankees' most talented hitter, and will benefit from the lineup depth that surrounds him.
Aaron Nola, Philadelphia Phillies: No. 80 -- Too low
I think that Mr. Karabell, a Phillies fan, will be pleased with how Nola climbs into the next echelon of starting pitchers. He has seemingly refined his four-pitch mix.
Ian Desmond, Colorado Rockies: No. 83 -- Too high
Maybe the No. 1 rule in fantasy is that if you have a chance, take a Rockies hitter. But Desmond did not have a good season last year, in the first year of a five-year, $70 million deal, and if he struggles again, I don't think Colorado will just reflexively run him out there because of that contract. He'll need to hit better to stay in the lineup.
Alex Wood, Los Angeles Dodgers: No. 89 -- Too high
He has become a terrific pitcher, but like all members of the Dodgers' staff, he simply gets less opportunity because of the organization's apparent philosophy to restrict innings and starts: The Dodgers had only one pitcher (Clayton Kershaw) who threw enough innings to qualify for the ERA title, and as we saw in the World Series with Rich Hill, the pitchers not named Kershaw usually get yanked after two times through the order. The Dodgers had by far the fewest starts of any team on four days' rest, and Kershaw generated the bulk of those.
Wood is outstanding, but he won't get as many opportunities as a lot of the guys stacked behind him in the Top 300.
Aaron Sanchez, Toronto Blue Jays: No. 128 -- Too low
Eric's rankings are generated before we see what we see in spring training, and what we've seen from Sanchez is this: He's back. There is no current blister issue; he has made a grip adjustment. Rival evaluators are raving about him. Two years ago, he won the AL ERA title, and he could re-emerge as one of baseball's most dominant starters.
Ronald Acuna, Atlanta Braves: No. 151 -- Too low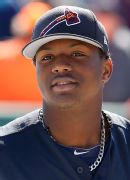 A monster player. A beast. And while he will start the season in the minors, he'll be summoned very early. And if you draft him, you can always say you saw and seized greatness before many of your peers.