Just like his dad, Rhett Bomar wants to coach high school football after he's done playing. This weekend, Bomar has gotten a glimpse of what that will be like.
The former Oklahoma quarterback returned to The Sooner State to work as a counselor for the DeBartolo Sports University Elite Quarterback and Receiver Academy, held at Shawnee High School.
"I enjoy working with kids," Bomar said. "My dad was a football coach, so I've been around it. I think eventually that's what I'll get into, hopefully later down the road. I enjoy helping out, helping the kids out, teaching them."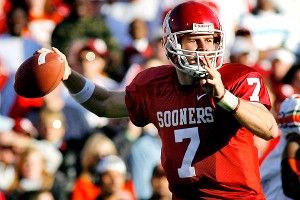 AP Photo/Ty Russell
Former Sooners signal-caller Rhett Bomar is helping out with a quarterback and receiver camp in Shawnee, Okla., this weekend.
Bomar got involved with the camp through former OU offensive coordinator Joe Dickinson, who runs the passing program.
"We hit it off right away," said Bomar, who got a call from Dickinson the summer before his senior at Sam Houston State to work a camp in Santa Barbara, Calif. The two have grown close and Dickinson has helped train Bomar ever since.
"He used to coach Oklahoma back in the day, so he wanted to help me out," Bomar said. "He's a great teacher of the quarterback."
Bomar's story needs little introduction in Oklahoma. Formerly the No. 1 quarterback recruit in the country, Bomar was kicked off the Sooners in 2006 for taking money for hours not worked at a car dealership. He transferred to Sam Houston State and became a fifth-round pick of the New York Giants in the 2009 NFL draft. Bomar has since bounced around the league, most recently with the Oakland Raiders, who released him in May. Bomar, who lives in Las Vegas, is hoping to land another roster spot before next season.
After a film session with several high school quarterbacks from the Oklahoma City area, Bomar spoke with SoonerNation about his time at OU, what he learned from his experience in Norman, and the last time he spoke with Bob Stoops:
Jake Trotter: How often have you come back to Oklahoma?
Rhett Bomar: Not that much. I've come up here to work out with [Dickinson] two or three times. He's in Dallas a lot training guys and I'd go and work out with him there.
Trotter: Is it weird for you to come back here?
Bomar: No. That was the first time I've flown into [the Will Rogers World] airport in awhile. I haven't been to that airport in a long time. Usually I was just driving up from Dallas. It's a little weird, just because I used to be here. I used to be up here, went to school here, would go to Oklahoma City, do all that stuff. Driving through it, it's kind of different. I try not to pay attention to it. I just try to focus on getting some work done here for a couple days.
Trotter: Do you keep up with anyone from your time at OU? Any teammates or coaches?
Bomar: Remember Juaquin Iglesias? He's a real good friend of mine. We were together in Minnesota for a little bit. He's down in Houston now. We talk a lot. We worked out together last year. We'll work out together whenever we get a chance. Manny Johnson, he was living down in Dallas. I hung out with him a lot. Those are the guys I keep in touch with a lot. I worked out with [Sam] Bradford last year with a couple of other NFL guys down in Dallas for a week. We had some mutual friends with the Rams. Iglesias and Johnson, though, are the only guys I really talk to.
Trotter: You have always been under intense scrutiny, from being the No. 1 quarterback in the country in high school, to being OU's starting quarterback, to being forced to transfer. What is that like for someone who is so young?
Bomar: It was tough. I wouldn't say that about being the No. 1 guy coming in. I didn't really look at it as being tough. I guess you get used to it, and you're just kind of excited to come in with that. You want to be the No. 1 guy. Everybody does. So that was fun. You want to start four years at OU. That was the plan. And it would've worked out that way, but then all the other stuff happened. It was tough after that. Going down with all the coverage of it, the pressure going down to Sam Houston State, people not thinking you can make it back and get in the NFL. I put a lot of pressure on myself to prove people wrong. That whole process was tough, I'm not going to lie. For a year there, it was really tough.
Trotter: When all that was going down, did you feel like you were treated fairly by the media, the fans?
Bomar: I tried not to pay as much attention as I could to the media stuff. I know it was a big deal up here, with fans and everything. It's not like I did anything to them personally. A lot of those people didn't know me. They were upset. But it was an unfortunate situation, the way it was. They didn't know all the details and anything like that, and there's no need to get into any of that. [Bomar declined to elaborate on the details of his dismissal from Oklahoma.] As for whether I was treated fairly, everybody has their opinion, they can think what they wanted. It didn't really bother me how everybody thought. You can't let that bother you. You have to move on.
Trotter: Do you feel like the whole experience made you a stronger person?
Bomar: It was tough. I don't really think about it that much. But if you do, you're like, "Things could have been a lot different." Things could have been a lot different football-wise. You play four years here, rather than go somewhere else. That's tough to think about. Then you're like, "Man." You could think about that all day. But you can't think about what-ifs. You can't do that. I think it did help me though. I had to go through a lot for a year. It was tough. Transferring right before practice, having to sit out a whole year. That whole year was tough on me. That 2006 year was a really tough year. I think it made me stronger, going through that adversity. Like you said, not a lot of people have to go through that. I was down, and had to build myself up to get drafted.
Trotter: A lot of guys in your situation would not have been able to get back up. How did you build yourself back up?
Bomar: Being a high recruit and coming to Oklahoma, and then having drop down to a 1-AA school. That's going to be tough. It's not what you're used to. The people down there were awesome. They helped me out a lot. I give them a lot of credit, because it was tough going down. You just have to throw your ego out the window. I'm just going to go play football. I'm going to try and get myself back up. Eventually, I kept working hard. Then my junior year, I tore my ACL, and I'm like, "Really? I have to work through this now?"
Trotter: In the eyes of many people, you became a villain. How difficult is that to bear when you're still just in college?
Bomar: It was tough, but at least I wasn't in the state anymore. Down [at Sam Houston State], they didn't care. Nobody wants anyone to hate them. You want everyone to like you. But you can't worry about that. You know who your true friends are, and you just have to go from there. But it was an unfortunate situation. I'm upset it happened. I still have friends from this state, friends from OU. Nothing changed from that aspect. I just had to leave.
Trotter: Has a kid you've worked with ever asked about the OU incident, and if they did, what would you say?
Bomar: Nobody has really asked. But if they did, I'd say, "I made a mistake." It was a bad situation I got into. I'd probably explain to them what happened, not getting into any details, but I'd just say, "Stay focused when you go to college, and keep your mind away from people that can put you in a bad situation."
Trotter: Have you talked to Bob Stoops since you left OU, and if he walked in the room, what would that be like?
Bomar: I haven't talked to him, no. I have no clue how it would go. You'd be friendly, but it wouldn't be like we'd sit there and have a conversation.