Every Thursday during the season, the SoonerNation staff will answer a roundtable question about OU football. Leave a comment or talk about it in our "There's Only One" forum.
Today's question: Should OU consider having alternate uniforms?
• OU has one of the best brands in college football. So no, the Sooners shouldn't be doing what Oregon and Oklahoma State have been. But I do think there's an opportunity to have fun once in awhile. What does that mean? Maybe when it's time to take part in the Nike Pro Combat, do something forward instead of looking back. The Sooners' white throwbacks against Texas Tech in 2009 were an admirable attempt to honor the past. But the uniforms came out looking dull and unattractive (OU played even worse than the uniforms and got routed by Tech that day). The next time, OU should wear something different that will excite the players and the fan base. The tradition of the school lends itself to exciting uniform possibilities. Should it be something OU does every week? Or even once a year? No. But every few years? I think it would be fun for the fans, and even cooler for the players.
- Jake Trotter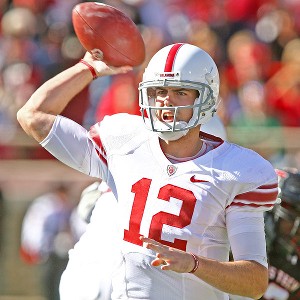 Karl Anderson/Icon SMI
Landry Jones threw one touchdown and one interception in the loss to Texas Tech.
• Should Oklahoma undergo a complete overhaul of its uniforms complete with a bevy of combinations? No. But the Sooners should have uniform options that would allow them to wear different gear at least twice (one home game, one road game) each season. Why? Because it would help in recruiting. Anyone who believes there is not a direct correlation between Oregon's rise and their uniform explosion is fooling themselves. Even though the Sooners don't need it, uniform combinations would help spark interest on the recruiting trail. If one player the Sooners covet picked OU over another school just because they liked the uniforms better, it would have paid off. It's pretty simple... if winning is all you care about, it's a no brainer. The answer is yes.
- Brandon Chatmon
• Call me a traditionalist or out of touch, it doesn't matter to me, but OU should stick with its classic design. There are certain schools that when you see that jersey represent what college football is all about, and you have to put the Sooners in that category. OU doesn't need some gimmick jersey to bring attention to itself. Championships and tradition have sold the school just fine through the years and will still do the trick in the future. It's the trendy thing to do right now, obviously, but for OU, it isn't the right thing to do.
- Bob Przybylo
• I'll admit, I'm not a fan of most of the new uniform trends in college football. Maryland's uniform combination against Miami last season -- inspired by Maryland's state flag -- were hideous, for instance. But there are tasteful ways to change up uniforms. The Sooners' minimalistic throwbacks in 2009 were a noble effort to try something different, but the way they were dismantled on the field probably tainted some fans' opinions. There's no harm in trying different uniforms every so often. After all, they're just uniforms, right? And Brandon's correct; 18-year-old recruits and care about these things. They want something shiny, something new and fresh. (At least they're not choosing schools based on fast food proximity. Oh, wait.) So yes, I think OU should consider alternate uniforms every so often.
- Dane Beavers