Jake Trotter answers readers' questions about Oklahoma football in his mailbag every Friday. Got a question for Jake? Submit it here.
Joel in Lewisville, Texas, writes: You mentioned on Twitter that you thought this week's game against A&M would be tougher than everyone thinks. Why?
Jake Trotter: Joel, my first reason is that Texas A&M way better than its 5-3 record indicates. Talent wise, this is a Top 15 team. Also, Texas A&M's offense is the kind that can potentially give OU problems. The Aggies have pretty much run on anyone, which sets up their play-action pass. That formula has worked on OU defenses in the past. Lastly, OU losing at Texas Tech a couple of weeks ago should give A&M a little confidence that it can hang with the Sooners in Norman, a place that hasn't been kind to the Aggies.
Matthew Emmons/US Presswire
Sophomore linebacker Tom Wort has improved tremendously since his freshman season.
Jamie in Massachusetts writes: Do you see linebacker Tom Wort being an NFL player?
Jake Trotter: Wort is showing this season that he is capable of playing at the next level. When healthy, he's been one of OU's three or four best players on defense. Wort is a sure tackler, and strong up the middle on the blitz. He won't be a first round draft pick, but Wort could end up being a solid inside linebacker in the NFL.
Michael in London writes: Who do you think will be favored in the Bedlam game?
Jake Trotter: At the moment, the projected line for the game is a pick 'em. I think Oklahoma State has a better chance to end up being favored because the game is in Stillwater. But barring a key injury, I can't see the line for this game being more than a couple points one way or the other.
Joe in Tulsa writes: I got in a debate with a co-worker and need your help settling it. Does OU need OSU to be undefeated at Bedlam in order for OU to get into the National Championship?
Jake Trotter: OU doesn't necessarily need OSU to be undefeated, but it certainly helps. A lot of that depends on what else happens. But if Oregon runs the table, and the Alabama-LSU loser keeps it close this weekend, the Sooners will need all the help they can get, and that includes the opportunity of beating an undefeated OSU team.
Ken in Dallas writes: Is there anything we can do to get a plus one game implemented? I love the BCS and the way the regular season is a playoff. But there could end up being a few one loss teams (like OU) that deserve a chance.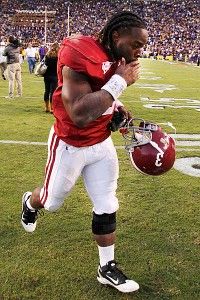 AP Photo/Bill Haber
Running back Trent Richardson and No. 2 Alabama play No. 1 LSU Saturday in Tuscaloosa, Ala.
Jake Trotter: It will be years before we might see an expanded playoff. But a plus one has support among people who matter in college football. My guess is that within the next 5-10 years, we'll have a plus one format in the BCS.
Tanner in Norman writes: Who do we root for, Alabama or LSU this weekend? What gives OU the best chance of getting to the national title?
Jake Trotter: This is a different question than, who would OU rather play in the national title (the answer is Alabama, since LSU in New Orleans would be like a home game)? Essentially, OU fans should root against the team they think is more likely to lose a second time. That's because the Alabama-LSU loser still has a decent chance of being ranked ahead of OU in the BCS. Looking at the schedules, Alabama goes to Mississippi State and Auburn to end the season. LSU plays No. 7 Arkansas, but in Baton Rouge. I think it's more likely that Alabama loses at Auburn than LSU loses at home to the Razorbacks. So in other words, root for LSU this weekend.
Brad in Norman writes: Any chance that running back Dominique Whaley can get an extra year of eligibility, considering he didn't play against Tech and only one play against K-State?
Jake Trotter: Unfortunately, no. To qualify for a medical hardship, a player has to appear in fewer than 30 percent of his team's games, and none after the midpoint of the season. Whaley appeared in 42 percent of OU's games this season, rendering him eligible for a waiver.