Oklahoma has solidified some of its positions for the class of 2013. Not much work needs to be done at quarterback, running back and defensive end because the Sooners either have commits at the spot or targets that are clearly identified.
But the current evaluation period is crucial in other areas. And this week, the OU coaches' attention went to defensive back and offensive tackle.
• The week started with a bang when OU offered four-star athlete Stanvon Taylor (Tulsa, Okla./East Central), who has been recruited as a cornerback by the Sooners.
Taylor hasn't verbally committed yet, but every picture of Taylor this week has shown him wearing some type of OU apparel. Once he gets the approval of his mother, the clock could be ticking to the next commitment.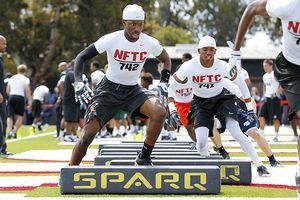 Danny Moloshok
Oklahoma recently offered 2012 Notre Dame signee Tee Shepard, who left school earlier this spring.
For the rest of the defensive backs, OU coach Mike Stoops went to California. OU already had offered cornerback Johnny Johnson Jr. (Fresno, Calif./Central East) in February. This week the Sooners added his teammates safeties L.J. Moore and Hatari Byrd. All three are four-star prospects.
OU is also taking a chance with safety Tyler Foreman (Encino, Calif./Crespi). Foreman is lacking the quality of big-time offers, but he has impressed recruiting experts who have seen him in person.
He admits he is still learning the safety position, but he has a lot of potential and is a high-end three-star prospect.
The Sooners also extended an offer to cornerback Derek Babiash (Poway, Calif./Poway), another cornerback that is at least 6-foot, which is what Stoops has been looking for in his defense. Babiash has been a popular name around the Pac-12 and is starting to break out nationally.
It didn't stop at 2013, either, as OU offered 2012 cornerback Tee Shepard. Originally signed with Notre Dame, health reasons forced Shepard, ranked No. 9 at cornerback and No. 90 in the ESPN 150, to leave the Irish.
• OU already had offered a lot of defensive backs so trying to guess which new recruits would get offers was kind of tough. Not so much when it came to offensive tackle. The Sooners saw five of their first seven offers commit to other schools, and OU offensive tackles coach Bruce Kittle has been hard at work this week, adding three offers.
It started Monday with Na'Ty Rodgers (Owings Mills, Md./McDonough). This will be a tough battle for OU to win, but the Sooners were able to nab a Baltimore-area product in 2012 with defensive end Charles Tapper (Baltimore/City College).
And then it was back to the West Coast with a pair of offers. Kittle watched tackle Kenny Lacy (Phoenix/Mountain Pointe) for more than an hour Tuesday and an offer was given later that night. Lacy has strong ties with OU coaches Mike Stoops and Tim Kish from when both were running the show at Arizona.
Next on the offer list was Nico Falah (Bellflower, Calif./St. John Bosco). Falah has offers from a lot of top programs and is one of the top in-state linemen targets for USC.
• With no defensive tackles in the 2012 class, it has been clear the position would be a big priority for this class.
OU has offered some defensive tackles and recently offered its first junior college prospect in Toby Johnson (College Park, Ga./Hutchinson CC). Johnson is one of the top juco prospects available.
The Sooners also offered a pair of committed prospects. Defensive tackle Keith Bryant (Delray Beach, Fla./Atlantic Community) is committed to Miami while tackle Deadrin Senat (Immokalee, Fla./Immokalee) is committed to Florida State, but that didn't stop OU from offering both of them.