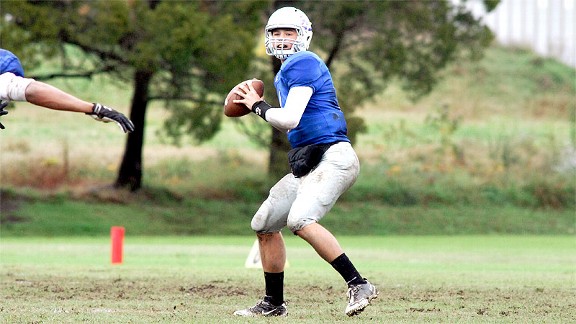 Courtesy of Charles Thomas/Fork Union
Christian Hackenberg has drawn comparison to another Virginia prep QB phenom, Russell Wilson, who is off to a great start turning heads with the Seattle Seahawks.
Four-star quarterback Christian Hackenberg (Fork Union, Va./Fork Union Military Academy) would be the gem of Penn State's 2013 recruiting class if he stays committed.
Rated the nation's top quarterback by ESPN and the No. 16 recruit overall in the ESPN 150, Hackenberg could become Penn State coach Bill O'Brien's next project. Scouts and Hackenberg's high school coach have lauded his overall arm strength, pocket presence and mobility.
But NittanyNation decided to take it one step further by retracing Hackenberg's junior season, speaking to each opposing head coach -- along with a handful of defensive backs -- to get their impression of the 6-foot-4, 212-pounder. Here are the games six through 10; the breakdown of games 1-5 appeared on Thursday.
Week 6
St. Christopher's (Richmond, Va.) 28, Fork Union 27
Opponent's final record: 9-3
Stat line: 28-of-52 for 226 yards, 1 TD, 3 INT
St. Christopher's coach Michael Turner
On what he sees from Hackenberg and what he might have to improve on: "He's able to make just about any throw you want him to make, and he has enough athleticism to move around in the pocket. Christian has all the tools. He clearly has the arm strength, the frame is there, and I think one of the challenges for him -- and I don't know Christian personally -- but I think the level of complexity of the offenses, especially at Penn State, that's going to be a quantum leap from what he's seeing now and the defenses he's going to read. But, from a physical standpoint, he's got all those tools."
Sophomore cornerback Garrett Taylor
On what he remembers from Hackenberg: "Well, first off, it was his size. I don't know exactly how big he is, but he seemed around 6-4, and you could tell as soon as he walked on the field that he was in control of his team. His presence on the field was the first thing that struck me, and he had a really quick release. I remember I was covering like an out route, and I had the receiver blanketed so he had to throw low and away, but he still got it there. His accuracy and power are really good.
"On another play, he had [ESPN three-star defensive tackle] Jack English in his face and he still got the ball out on time and put it right where the receiver needed to catch it. So, it's just stuff like that, with his presence in the pocket. It was actually fun to watch."