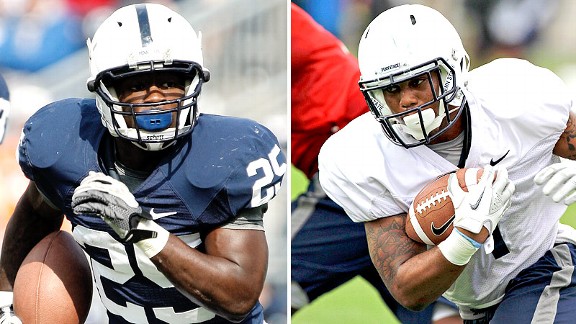 Icon SMI, AP Photo
Silas Redd (left) was a known quantity as one of the top backs in the Big Ten. The load now should fall primarily to Bill Belton, a much different type of back.
While some current Penn State players characterized the nine transfers this offseason as a low number, those departures still will have a big impact on the team's success this year and in the future.
NittanyNation takes a closer look at what each transfer means to the team and who'll need to step up for Penn State at those positions this season.
Transfer: RB Silas Redd (USC)
Years of Eligibility Left: 2
What They Lose: One of the top tailbacks in the nation. Redd rushed for 1,241 yards last year, averaging 5.1 yards per carry, and was often the spark the Nittany Lions' offense needed. Redd is easily the most costly transfer this offseason, and his departure turns one of the Lions' main strengths into a question mark.
Who Needs To Step Up: Bill Belton. He was a freshman wide receiver last year, but the coaching staff immediately saw a running back in the 5-foot-10, 202-pound athlete. He's unproven, but he has good hands and should fit well into Bill O'Brien's offense, where he could see his fair share of check-downs. Belton won't make fans forget about Redd, but he should immediately become a primary offensive weapon who sees 20 or more touches a game.
Transfer: WR Justin Brown (Oklahoma)
Years of Eligibility Left: 1
What They Lose: The unquestioned No. 1 WR and a fast, experienced deep threat whose hands have been inconsistent. Brown caught more passes last season (35) than the rest of the returning receivers combined. He was expected to have a breakout season under receivers coach Stan Hixon and was the most surprising departure. He leaves a stable of unproven wideouts now battling for the top spot.
Who Needs To Step Up: Shawney Kersey. Take your pick here. Kersey, Allen Robinson and Alex Kenney will all have to fill the void Brown left. But special consideration here goes to Kersey, who is the most seasoned as a redshirt junior and will have to take a leadership role with a young group of receivers. More than half of Penn State's receivers -- 7 of 13 -- are freshmen, so Kersey has his work cut out for him.
Transfer: LB Khairi Fortt (Cal)
Years of Eligibility Left: 2
What They Lose: A linebacker who battled for a starting job this season and was expected to see a lot of time as the team's No. 4 'backer. Defensive coordinator Ted Roof plans to use multiple looks this season, and some of those will include four-linebacker sets. Fortt was expected to play in those situations and really could have caused fits for opposing offenses. He had six tackles for loss last season and likely would have had even more this season. Still, the linebacker position remains a strength on this Penn State team.
Who Needs To Step Up: Mike Hull. Hull was also reportedly mulling a transfer, but the Lions are fortunate he decided to stick around. He's a little smaller than Fortt, but he played in every game last year and will still be a force on the defense this season. He'll slide right into that No. 4 'backer position with Fortt's departure.
Transfer: K Anthony Fera (Texas)
Years of Eligibility left: 1 (Technically has two after redshirting as a freshman, but he plans to graduate.)
What They Lose: An incredibly accurate kicker who could also punt and kick off. Fera finished 14-of-17 on field goals last season and was perfect on kicks shorter than 40 yards (11-of-11). He was a bright spot on a special teams unit that has historically struggled: He averaged 42 yards a punt -- nearly 20 percent of his punts surpassed 50 yards -- and he could arguably be one of the three costliest departures of the offseason.
Who Needs To Step Up: Sam Ficken. The sophomore might actually have a stronger leg than Fera; the only question is his accuracy. Ficken impressed the media during warmups last week when he nearly landed a football on Holuba Hall's roof. The attempt was just 28 yards but, between the height and power, it appeared as if it could've traveled at least 50. Ficken will turn some heads this season; and, if he can connect on 80 percent of his field-goal attempts, fans might be left asking, "Anthony who?"
Transfer: QB Rob Bolden (LSU)
Years of Eligibility Left: 2
What They Lose: An athletic quarterback who has potential but couldn't put it all together under former quarterbacks coach Jay Paterno. Bolden played in 20 games his two years at Penn State, but he appeared to regress from his freshman to sophomore seasons. O'Brien already announced Matt McGloin as the starter this season, so Bolden was simply expected to challenge for the backup spot and play as a change-of-pace quarterback. Bolden's transfer was expected, as he was released from his scholarship before the sanctions were even announced.
Who Needs To Step Up: Paul Jones. Jones could have challenged Bolden for playing time the first two seasons, if not for academic issues, and now slides right into the No. 2 spot. He's not a dual-threat quarterback like Bolden, but the redshirt sophomore better fits O'Brien's offense. Jones is the favorite to become next year's starter, so his growth is paramount this year. He'll likely see some time when -- and if -- games are in hand.
Transfer: TE Kevin Haplea (Florida State)
Years of Eligibility Left: 2
What They Lose: A highly touted player out of high school who was expected to start this season but was then relegated as a backup. Redshirt freshman Kyle Carter surpassed Haplea on the depth chart during spring practice, so Haplea wasn't expected to play a large role in this year's offense. He played in every game last season but was primarily used as a blocking tight end, finishing with just three catches for 21 yards and a score.
Who Needs To Step Up: Jesse James. Haplea's departure is going to create a little extra playing time for a few others, and big things are already expected from another backup: James. James doesn't play the exact position Haplea did ("Y" TE compared to "F" TE), but all tight ends are expected to know the ins and outs of both spots in the offense. And at 6-foot-7 and 264 pounds, the true freshman provides McGloin with a large target who can create matchup problems for opposing defenses.
Transfer: DT Jamil Pollard (Rutgers)
Years of Eligibility Left: 4
What They Lose: An incoming three-star prospected who would have provided needed depth on the interior defensive line. Pollard's loss is difficult to quantify because his college career has not yet begun. Still, he was one of Penn State's few underclassman defensive tackles, so his loss makes the future of the interior defense a little cloudier, at least at this point. Although he likely wouldn't have seen the field this season, he could've been a regular on the line in another season or two.
Who Needs To Step Up: Brian Gaia. Another incoming freshman, Gaia likely would have challenged Pollard for playing time down the road. Gaia is a four-star prospect, so as long as he can add some bulk and become a solid starter Penn State won't miss Pollard nearly as much.
Transfer: S Tim Buckley (NC State)
Years of Eligibility Left: 4
What They Lose: One of the Lions' top walk-ons who was likely just looking at time on special teams and as a reserve to Malcolm Willis. Buckley earned his way this spring to the second string, but his time on the field was still likely limited. His transfer made the most sense out of the nine, as he went from walk-on at Penn State to scholarship player at NC State. Buckley's loss isn't devastating, but he's exactly the kind of player the team needs over the next six years with fewer scholarships on hand.
Who Needs To Step Up: Stephen Obeng-Agyapong. The redshirt junior has played in every game each of the last two seasons, and he'll be the man to call on if there's an injury in the secondary. With Buckley's transfer, walk-on Ryan Keiser and Obeng-Agyapong are the only safeties to see any kind of time on the field. Obeng-Agyapong is the favorite to replace Jake Fagnano next season, so he needs to start showing now that he can compete.
Transfer: OL Ryan Nowicki (Illinois)
Years of Eligibility Left: 4
What They Lose: The lone transfer not listed on Penn State's depth chart and not expected to see the field this season. Nowicki was a three-star prospect in the Class of 2011, but he was unable to find a spot in the rotation this spring. There's quite a bit of depth on the offensive line, so Nowicki likely wouldn't have earned a spot in the rotation until possibly his junior season.