COLLEGE STATION, Texas -- Jake Matthews is an older brother to his teammate, Mike Matthews, but to hear him speak of Mike, he almost sounds like a proud father.
They were teammates at Missouri City (Texas) Elkins High and now that Mike, a true freshman, is in Aggieland, they are again teammates for Texas A&M.
And big brother is loving it.
"With Mike, I couldn't be more proud of him, just having your little brother come in, living with him, going to class with him all the time, working out with him," Jake Matthews said. "It's pretty cool to have him around."
Both are sons of NFL Hall of Fame offensive lineman and Tennessee Titans assistant coach Bruce Matthews and are part of a line of football-playing Matthews boys. Their older brother, Kevin, played at Texas A&M and is on the Titans' roster now.
Jake came in just after Kevin's career concluded in College Station but Jake has since carved out a nice career of his own. He started seven games as a true freshman, had a solid sophomore year and is now part of what is perhaps the premier tandem of offensive tackles in college football this year along with teammate Luke Joeckel. At 6-foot-5 and 305 pounds, Jake will almost certainly be an attractive NFL draft prospect whenever he decides to pursue the next level.
In the meantime, he's making sure that Mike, a reserve center, is adjusting to life in college football.
"That's my little brother," Jake said. "I've got to protect him, make sure he learns it and knows what's going on. I just want him to do well and I'm looking forward to him getting a lot better and just learning."
During fall camp, the coaches were pleased by Mike's progress, though it was briefly interrupted by a minor ankle injury suffered in a recent scrimmage. Coach Kevin Sumlin said he'd like to have Mike travel with the team this fall, even though he would be a backup center to starter Patrick Lewis, so that he can get a taste of everything before taking over as the starter for the next three seasons.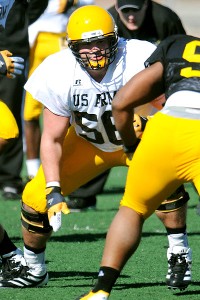 Credit: John Albright/Icon SMI
Mike Matthews is being groomed to take over as the starting center for Texas A&M next season.
"My feeling is, a year from now with Pat being gone ... that if [Mike] can handle it, I'd rather him travel and be the backup center and play in games and have three years to start as a center rather than have a brand new center next year who has never been in a game and do that," Sumlin said. "There's some people who would say that's crazy, but I think if you start in the SEC for three years at his position, that's pretty d--- good. He's got ability, he's got to learn the offense, he's got to be in those types of things, he's not ready yet, but I think over the course of the year, he'll give us some flexibility to really develop that second line for guys in case of injury or in case of substitution."
Offensive line coach B.J. Anderson said Mike has picked things up quickly.
"He's done a really nice job," Anderson said. "His football IQ is higher than most freshmen that come in here. He's picked this offense up."
Of course, the pair of Matthews boys keep their dad posted on a daily basis and Jake said they benefit from it.
"Every day I call my dad after every practice," Jake said. "He loves hearing what's going on. He wants to know how we're doing. He wants to know what we did good and what we messed up on. He loves hearing it all so Mike and I usually give him a call right when we get home. It's pretty beneficial.
"I told a lot of people, it's like having a second coach. I have coach Anderson here and then I go home and any little thing that I may have forgotten to ask him or things that I didn't know that he might be able to help me with, I can call him up 'Hey, what do you think about this?' It's a big advantage to have."