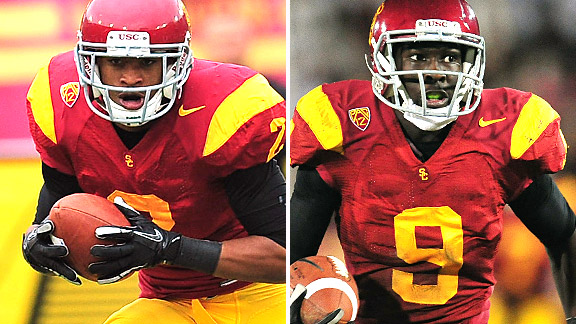 US Presswire
Is it possible a unit led by Robert Woods (left) and Marqise Lee isn't the Trojans' best? It's possible when you have as much talent as this team.
WeAreSC staffers give their opinions on a variety of USC football topics as the Trojans prepare for the season opener Saturday against Hawaii.
Garry Paskwietz
Best overall position group: I'm tempted to say the tight end spot, but I'm going to go with the secondary. The difference is the top-end talent. Xavier Grimble and Randall Telfer are going to be very good, but T.J. McDonald and Nickell Robey will be at a different level. Both groups have solid supporting casts -- keep an eye out for the physically impressive Junior Pomee at tight end -- but when the secondary boasts a third-unit safety duo of Josh Shaw and Gerald Bowman you have to give it the nod.
Biggest concern: The left tackle position. Aundrey Walker has all the potential in the world and there is a good chance he will be playing in the NFL some day. But he's not there yet. While he is to be commended for his impressive weight loss this past offseason, there are still signs that he has yet to fully grasp the responsibility he has been given to guard the blind side of Matt Barkley.
Player who has raised his game the most this offseason: George Uko. The defensive line is young and inexperienced, but one player the coaches consistently raved about during fall camp is Uko. He served as a reserve in 2011 and got adjusted to the college game, now he is showing why many people consider him the next great USC defensive lineman to be developed under Ed Orgeron.
Player who will surprise people with his contribution: Soma Vainuku. The redshirt freshman had the benefit of sitting out last year and learning from Rhett Ellison. The most important lesson was work ethic, and Vainuku learned it well. He is 250 pounds and ran the fastest 40-yard dash time of any running back (sub-4.5). He will carry the ball for the Trojans -- he was a 2,000-yard rusher in high school -- and he is also an excellent pass-catcher out of the backfield. Vainuku is Rey Maualuga's cousin so the physical role of blocking should not be a problem.
Freshman who has stood out the most: Max Tuerk. He was the best player on a state title-winning team last year, and he wasted no time in making an early impression at USC. Trojans coach Lane Kiffin said he was further along in camp than Marcus Martin was last year and Martin ended up being a credible starter. Tuerk, who is the No. 2 left tackle right now, was also given Matt Kalil's old No. 75 midway through camp. Do you think that was a sign of what the coaches think of his potential?
Greg Katz
Best overall position group: When I look at the overall picture, I would say the secondary is the best overall position group. Inside safeties All-American T.J. McDonald and veteran Jawanza Starling and cornerbacks All-Pac-12 Nickell Robey and talented newcomer Anthony Brown are top shelf.
Biggest concern: Defensive line. When you lose defensive end Devon Kennard before the season and you're moving your starting nose guard, J.R. Tavai, to Kennard's position, you have big questions. Depth is an understated major issue, and it has raised it ugly head in fall camp.
Player who has raised his game the most this offseason: Soma Vainuku. You can't help but notice Vainuku's improvement in all phases of his game at the fullback spot. He is a real sleeper when used as a tailback and figures to be a key component as a receiver. Now that he understands the playbook, he has raised his game immensely.
Player who will surprise people with his contribution: De'Von Flournoy. So much attention was paid to projected No. 3 receiver George Farmer, somebody forgot to tell Flournoy to dial it down. Instead, with Farmer's injury history, Flournoy has put himself in position to be a very productive No. 3 receiver, a surprise to many since he has yet to catch a pass in a game.
Freshman who has stood out the most: Either defensive tackle Leonard Williams or offensive tackle Max Tuerk. Both have really shined during preseason camp. Williams and/or Tuerk could end up being starters at some point in the season.
Johnny Curren
Best overall position group: Wide receivers. With Robert Woods and Marqise Lee forming arguably the top receiving duo in the nation, it really makes it difficult to choose any other group here. They just make it look so easy and they really open things up for the entire offense. What makes this unit an even more convincing choice is the solid fall camp performances by George Farmer, De'Von Flournoy and Victor Blackwell, not to mention the lights-out showing by freshman game-breaker Nelson Agholor.
Biggest concern: Defensive line. USC already has what might be the top defensive line class in the country locked up for the Class of 2013, and it's a shame that they can't use a couple of those blue chippers this season. This is generally regarded as the thinnest spot with the least amount of experience for the Trojans. The good news is that the veteran standouts that they do have -- led by George Uko and Wes Horton -- can more than get the job done early in the season while the rest of the group catches up.
Player who has raised his game the most this offseason: Antwaun Woods. In the span of less than a year, Woods has gone from a virtual non-factor to the starting nose tackle. There was never any denying his talent level -- he was a real force at Los Angeles City-Section power Taft -- but what's different now is that he has the work ethic to match it.
Player who will surprise people with his contribution: De'Von Flournoy. With Woods and Lee stealing much of the attention, Flournoy quietly had a superb fall camp, showcasing improved route-running and big-play ability. While some of the other wideouts had their down moments, Flournoy just didn't seem to make mistakes.
Freshman who stood out the most: Max Tuerk. It's not often that a freshman offensive lineman can step in and look right at home with the starting unit, but that's exactly what Tuerk did at times at left tackle this fall camp. The 6-foot-6, 285 pound athlete out of Santa Margarita (Rancho Santa Margarita, Calif.) is light-years ahead of where you might figure he'd be at this stage, both physically and mentally.