Several rookies have been valuable fantasy options this season, some expected like Green Bay Packers running back Eddie Lacy and others a bit surprising, such as Washington Redskins tight end Jordan Reed. Then there's St. Louis Rams wide receiver Tavon Austin, arguably the biggest disappointment of the first-year skill position set. Austin was chosen eighth overall in the 2013 draft, and fantasy owners figured there was no way he wouldn't be heavily used, considering the Rams traded up to acquire him. Well, wrong! And even Sunday, when Austin exploded for 31 standard fantasy points, topping his entire season total, he wasn't exactly heavily used, which is why buying in and trusting him is not wise.
Big numbers finally came Sunday when Austin, who has been showing up in more and more free-agent lists since being a ninth-round choice, on average, in ESPN average live drafts and universally owned, torched the Indianapolis Colts for three touchdowns of 55 yards or more, only the third player in history to do that in one game. Austin scored on an electrifying 98-yard punt return in the second quarter of the Rams' shocking 38-8 rout, and later caught touchdown passes from quarterback Kellen Clemens of 57 and 81 yards in which he, frankly, did much of the work. So where was that all season? The crazy-fast Austin has been underutilized for months. Will things suddenly change for the final six games, several of which come against challenging pass defenses like those of the Seattle Seahawks, San Francisco 49ers and Arizona Cardinals?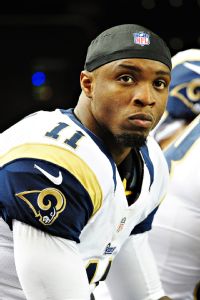 Scott Cunningham/Getty Images
He looked great Sunday, but Tavon Austin had scored either one or zero fantasy points in five of his past six games.