The first in-season NFL Power Rankings are out, and it isn't surprising that the Jacksonville Jaguars fell from near the bottom to the very last spot. After all, the Jaguars' offense did not score in Week 1. In a fantasy sense, there are two relevant Jaguars -- running back Maurice Jones-Drew and wide receiver Cecil Shorts -- and neither performed up to expectations in the 28-2 loss to the Kansas City Chiefs. In fact, each scored just four standard fantasy points. But they remain very relevant, at least according to the ESPN Fantasy Week 2 rankings.
This week the Jaguars travel to the West Coast to face the Oakland Raiders, another team that doesn't figure to win many games. The Raiders, of course, have an intriguing quarterback in Terrelle Pryor, who vaults into the top 20 at his position. The Jaguars, however, don't have much at quarterback. Blaine Gabbert was pretty bad in Week 1. In Week 2, he'll be replaced by veteran Chad Henne, and while it's a modest upgrade, it's not like he's Joe Montana, you know. Henne has won just one of his past nine NFL starts, and while he burst on the scene last year with a four-touchdown performance at the Houston Texans, after that he threw more interceptions than touchdowns.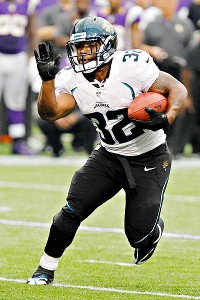 Bruce Kluckhohn/US Presswire
Maurice Jones-Drew didn't do much in Week 1, but fantasy owners shouldn't forget how talented he is.
Still, the quarterback change is good for Jones-Drew and Shorts. Frankly, even if it was Gabbert back there, I still would have stuck with them in this enticing matchup, on talent alone. Let's not forget that Jones-Drew led the NFL in rushing in 2011, and he's 100 percent healthy from the broken foot that truncated his 2012 season. He didn't have anywhere to run in Week 1, but I think it's going to be considerably easier to find holes in the Raiders' defense. Don't read into the fact that the Indianapolis Colts didn't run well against Oakland; that isn't a harbinger. Jones-Drew is a lot better than Vick Ballard and a 75 percent-healthy Ahmad Bradshaw. Jones-Drew remains a strong RB2 for me, a potential 100-yard guy this week.
Shorts is right there as a top-20 wide receiver option, and his stock rises some because of the quarterback change. He did, after all, have a four-game streak last season of touchdown receptions, all with Henne at the helm. I'm of the mind that Shorts will be successful even with Gabbert throwing the football, though. Shorts and Justin Blackmon will form an effective tandem, when Blackmon returns from suspension. That was part of the problem against the Chiefs. Jones-Drew and Shorts were pretty much on their own, and their battered quarterback was dealing with a broken thumb. There remains no viable No. 2 receiver. Not saying the Chiefs' defense is special, but I'm more certain the Raiders' version is not. Shorts is a borderline WR2 for me.
Here are some other thoughts, by position, on the Week 2 fantasy rankings:
Quarterback: There seemed to be little variance on the top seven or so passers, but then some new names showed up. Philadelphia Eagles quarterback Michael Vick missed my top 10 for several reasons. First, I like 12 other guys -- mostly the same ones that ranked in my top 12 all preseason -- over him. Who could I drop? Robert Griffin III looked fine in the second half Monday. Tony Romo had a big game and will play. And you know Matthew Stafford will be throwing a lot in Arizona. Second, at some point, when Vick leaves a game early with just five fantasy points, his owners will act surprised. Don't be. The guy is brittle, and this new offense exacerbates his risky health. … I ranked Eli Manning better than everyone else -- in my top 10 -- because I see a similar scenario for him against his big brother Peyton in Week 2 as in Week 1 against Romo and the Cowboys. The Giants will fall behind, and Eli will throw a ton and bring his team back. … Russell Wilson is not a great play against San Francisco this week, nor would you be considered off your rocker if you decide to sit Colin Kaepernick for Vick or Andrew Luck. But I just can't bet against Kaepernick. He looked spectacular in Week 1, and I view him as matchup-proof. … A bit deeper in the rankings, you can see I remain aboard the Terrelle Pryor train, more than my colleagues, and apparently I believe more in Josh Freeman as well. Hey, he's facing the New Orleans Saints. They don't have a great defense.
Running back: My take on the Brandon Jacobs signing with the New York Giants is that it's actually good news for the embattled David Wilson. Look, the Giants know Wilson is a special talent. If they didn't believe that, then a three-down back like Willis McGahee would be here. Jacobs is shot. He'll be asked to handle some goal-line work and hold leads late. Wilson barely missed my top-20 running backs, meaning he's a legit flex option. Don't be scared. It was one week. … Similarly, I can't buy low fast enough on New England Patriots touchdown-maker Stevan Ridley. LeGarrette Blount? Are you kidding me? For me, Ridley is in the same No. 13 spot among running backs that he occupied last week. … I did lose faith in Lamar Miller, however. I see my colleagues have him in the top 20, but I'm skeptical, even against a Colts defense that should be run on. Just don't cut Miller, even as Daniel Thomas splits the carries. … I'm not as high as others on Arian Foster. I think the Texans will share the carries yet again this week, probably more than in Week 1. Keep Ben Tate owned. Foster is my No. 9 running back, still a starter, but again, I see potential issues. … Eddie Lacy has a nice matchup against the Washington Redskins, but I didn't feel entirely comfortable placing him among my top-20 running backs. Let's just say I didn't like Frank Gore, Wilson or Darren McFadden more for this week. … Daryl Richardson nearly climbs into RB2 range this week, but a few of us, myself included, ranked Isaiah Pead, just in case.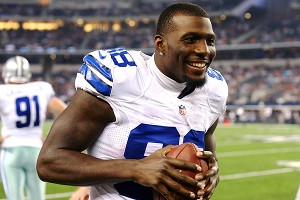 Matthew Emmons/USA TODAY Sports
Let's hope we get some clarity on the status of Dez Bryant (foot) prior to game time Sunday.
Wide receiver: Yep, I'm concerned about Dez Bryant and Roddy White for this week. Both are clearly hurt more than was originally let on. Bryant is a mid-WR2 for me, far lower than my colleagues have him ranked, and White missed my top 25. Look for updates later in the week on these fellows. Hopefully, unlike last week with White, their teams will sit these receivers to make our decisions easier, unless they'll be used extensively. … Reggie Wayne, top-10 wide receiver. Honestly, what's the evidence against this now? … Julian Edelman seems like such an obvious great play this week -- don't you think the Jets know this, too? -- that it scares me how much everyone loves him. He's outside of my top-20 wide receivers. I do think Kenbrell Thompkins will be a factor. … I nearly placed Mike Williams of Tampa Bay in my top 20. I came thisclose. … Watch No. 3 wide receivers Eric Decker and James Jones have better games this week. I ranked them well enough that people should consider using them. Again, it's one week. They'll be productive.