Fantasy football value, at times, is all about a player's opportunity, and other times it's about a player's talent. In the case of Atlanta Falcons running back Jacquizz Rodgers, he's really nothing special. While acknowledging the absence of starting running back Steven Jackson to a thigh injury affects many fantasy teams, the fact is his replacement isn't anywhere near the same player, thus he shouldn't be counted on for similar numbers. And this fact shows in our Week 3 rankings; my colleagues and I don't view Rodgers as a fantasy starter. Perhaps he's not even a flex option on many teams.
As you make lineup adjustments to account for injured running backs -- Jackson, the Baltimore Ravens' Ray Rice and the Detroit Lions' Reggie Bush, to name a few -- try to avoid overrating situations like the one in Atlanta. We've seen enough of the diminutive and mostly disappointing Rodgers to know that opportunity doesn't trump talent here. Rodgers does damage in open space, like on screen passes and kick returns, but he hasn't been effective as a pure rusher, and we shouldn't expect that to change now.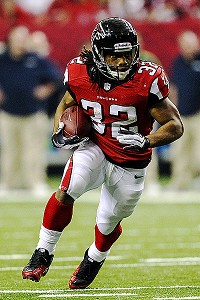 Daniel Shirey/USA TODAY Sports
Just because he's in line to get more of the Falcons' backfield touches this week doesn't mean Jacquizz Rodgers is a sure-fire fantasy starter.
Plus, it was apparent Sunday that the Falcons didn't even want to run the ball after Jackson left the game. Look, if Seattle Seahawks rookie Christine Michael ever saw major opportunity, well, sign me up. As for Rodgers and perhaps Jason Snelling, well, excuse me while I yawn.
My lack of statistical excitement isn't confined to the healthy Falcons running backs. Green Bay Packers rookie Eddie Lacy (concussion) has already been ruled out for Week 3, and everyone and their mailman is adding James Starks. I'm actually OK with that. Add the guys who are getting opportunity. But I'm hardly looking to activate Starks unless my other options are equally underwhelming. Starks had a big second half against the defensively awful Washington Redskins in a blowout win Sunday, but he's not a reborn player. In Starks' first 23 regular-season games, he scored two touchdowns and never topped 85 rushing yards. He hasn't duplicated his playoff magic, which was really just one wild-card game anyway. In other words, he doesn't possess the skills or upside of Lacy, so don't assume he effectively replaces him. Frankly, I expect the Falcons and Packers to throw the ball a ton this week with their backup running backs supplying little offense. It's why Rodgers and Starks aren't among my top 30 running backs this week.
There's a difference in Baltimore and Detroit in that those backups are more proven commodities. Bernard Pierce averaged 4.9 yards per carry as a rookie last year, hitting holes with authority and speed and looking like a future top-10 running back should opportunity arise. We don't know yet if Rice is out for Week 3 because of a strained hip flexor. Perhaps Rice and Pierce will split duties like Arian Foster and Ben Tate with the Houston Texans, deflating value all around. I'm not sure I've ever ranked Rice as barely a top-20 running back, but hey, he's not 100 percent healthy and can't be expected to carry a full workload. It's like Roddy White in Atlanta, who missed my top 30 wide receivers. Name value can get overrated, but be realistic with statistical expectations. In Detroit, Joique Bell is really good, a Rodgers-type catching the ball but also large enough to score rushing touchdowns. If we knew Rice and/or Bush would not play this weekend, it's reasonable to exalt their backups to starting status. Even now with the playing time ambiguity, I rank Pierce/Bell better than Rodgers and Starks, and if they're starting, they're top-20 for me.
Quarterback: I wouldn't panic if you own the Carolina Panthers' Cam Newton, the New England Patriots' Tom Brady, the Redskins' Robert Griffin III or the Seahawks' Russell Wilson. These guys ended up in my 8-11 rankings spots, starters for me. Yes, the Kansas City Chiefs' Alex Smith and Arizona Cardinals' Carson Palmer have the shiny matchups -- against the woeful defense of the Philadelphia Eagles and actually somewhat sturdy New Orleans Saints, respectively -- but I'm sticking with what I drafted. Newton isn't suddenly bad now. He finished fourth in overall scoring a year ago. He's running less, like Griffin, but for different reasons. He should remain a fantasy starter. Brady might or might not get tight end Rob Gronkowski back this week -- I ranked Gronk second at TE, just in case -- but I still rely on him. Garbage-time statistics count just the same as first-quarter ones, for all you Griffin complainers. And Wilson doesn't have to face the San Francisco 49ers again for a while. This week it's the Jacksonville Jaguars. Come on.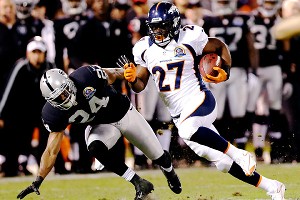 AP Photo/Marcio Jose Sanchez
Knowshon Moreno is currently tied for seventh among running backs in ESPN standard scoring as he prepares to face the Raiders.
Running back: I can't say I thought I'd be ranking Denver Broncos veteran Knowshon Moreno in my top 15 at any point this season, but there he is for a satisfying home matchup with the Oakland Raiders. It doesn't mean rookie Montee Ball won't ever take over the Broncos' lead-back duties, but Moreno is the man today. … It's hard to trust the Jaguars' Maurice Jones-Drew with a sprained ankle and a tough matchup. The Seahawks have allowed 10 points this season. The Jaguars have scored 11. Stay away. … If you own Stevan Ridley, you're perfectly within your rights to never play him again. But he made my top 20 this week. … I feel less confident in New York Giants afterthought David Wilson, though I ranked him better than Rodgers and Starks. Know why? He is better. The Giants are 0-2. Just give the kid 25 touches already. … I like Cincinnati Bengals rookie Giovani Bernard a tad better than BenJarvus Green-Ellis for fantasy purposes, but I think we know the team is treating this as a timeshare. Neither is more than a flex choice. … As for Atlanta's Jackson, he's 30 years old. It's the reason I avoided him in all drafts. It generally takes older players longer to recover from injury.
Wide receiver: No surprises in my top 10, though DeSean Jackson has forced his way in. At this point, we should rely on Michael Vick and Jackson while they're a lethal combination. … Of course, no running back or wide receiver has more standard fantasy points than Jackson, who is tied with Eddie Royal at 41 points. Royal is my No. 30 wide receiver. As with Starks, add him, but aim to trade him. Starks will be the better flex play based on expected touches, though. … Everyone loves Julian Edelman again this week, but why would his Week 3 numbers be significantly different than Week 2? Sure, in PPR formats, he's top-10. In standard leagues, he's not top-20 for me. … I might never like the Chiefs' Dwayne Bowe more than I do against Philly's sorry secondary. … Same with Washington's Pierre Garcon against Detroit. So what if most of his numbers come after halftime? … Some might want the likes of rookies Tavon Austin and DeAndre Hopkins ranked considerably better. There's so much wide receiver depth that it's tough to move them ahead of still-viable veterans such as Mike Wallace and Anquan Boldin. And yes, many of you should be using wide receivers at the flex spot by now.