One of the interesting things about Week 3 in fantasy is that it's the final week before byes begin. In other words, enjoy the depth, because after this, it will be lessened! You'll see many names in this flex rankings blog entry, and quite a few of them will not be there a week from now when the Green Bay Packers and Carolina Panthers begin Week 4. Hey, it's good to have decisions to make. And hopefully we help in this space as we combine the best of the running backs, wide receivers and tight ends into one tidy list!
For more advice, check out the Week 3 staff rankings in the usual spots, or perhaps your question was answered in one of our chats this week or by me Wednesday.
Good luck to all, and remember these are your teams, so make your own decisions, though it never hurts to get another opinion!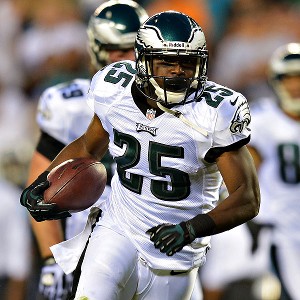 Drew Hallowell/Philadelphia Eagles/Getty Images
Should we be concerned that LeSean McCoy is facing his former coach (Andy Reid)? Um, no.
1. Adrian Peterson, RB, Vikings: Just wait until he really gets going. That said, it's reasonable to expect only 1,500 yards, not 2K.
2. LeSean McCoy, RB, Eagles: Well, if anyone knows how to stop him, you'd think it'd be his former coach, Andy Reid. You can see by this rank that I'm not particularly concerned.
3. Marshawn Lynch, RB, Seahawks: Still worried? He torched the 49ers. The Jaguars don't play the same brand of defense.
4. Doug Martin, RB, Buccaneers
5. Alfred Morris, RB, Redskins: Showed he can run for 100 yards even in a blowout loss.
6. Matt Forte, RB, Bears: Please stay healthy, Matt, because your numbers are terrific.
7. Jamaal Charles, RB, Chiefs: Will have no issues against the Philly D.
8. C.J. Spiller, RB, Bills: Don't get too worked up about Fred Jackson.
9. Calvin Johnson, WR, Lions: Seems like the perfect matchup (against Washington), if the Skins' first two games are any indicator.
10. Arian Foster, RB, Texans: Got a feeling he'll be sharing carries all season.
11. A.J. Green, WR, Bengals
12. Dez Bryant, WR, Cowboys
13. Demaryius Thomas, WR, Broncos
14. Julio Jones, WR, Falcons: Played through injury in Week 2 and played well, which is nice because he could have gotten a bad rep had he missed the game or played poorly.
15. DeSean Jackson, WR, Eagles: Looks like a different player, really. In retrospect, he could have had an even bigger Week 2.
16. Randall Cobb, WR, Packers
17. Brandon Marshall, WR, Bears
18. Jimmy Graham, TE, Saints: Main difference-maker at his position might be joined by another (Gronk!) this week. Or not. No injury concerns with Graham, though.
19. Victor Cruz, WR, Giants
20. Chris Johnson, RB, Titans: He's not being talked about much, which in his case is probably a good thing.
21. Reggie Bush, RB, Lions: Should play in Week 3, but you'll have to make sure on Sunday morning. In his Saints' seasons, he would have missed a month with this injury. Give the guy some credit. He played through pain as a Dolphin, too.
22. Vincent Jackson, WR, Buccaneers: It'd be nice if his quarterback were playing better.
23. Jordy Nelson, WR, Packers
24. Frank Gore, RB, 49ers: If he has a bad game this week, then we'll really worry. Still, it's premature to get excited about Kendall Hunter.
25. DeMarco Murray, RB, Cowboys: He's still upright. (Smile.)
26. Larry Fitzgerald, WR, Cardinals: You'll have to make sure he plays … but he did play last week. He has a nice matchup this week, in theory, though the Saints haven't allowed 20 points in a game yet.
27. Andre Johnson, WR, Texans: Because of concussion woes, it's not a sure thing that he'll play.
28. Knowshon Moreno, RB, Broncos: This is a very lofty rank for a player many thought was done, but a pair of 20-yard touchdown jaunts in Week 2 show he's clearly not.
29. Marques Colston, WR, Saints
30. Darren Sproles, RB, Saints: Kind of a slow start, but you know he'll get his catches.
31. Pierre Garcon, WR, Redskins: Garbage-time catches matter, too.
32. Dwayne Bowe, WR, Chiefs: Tough to ask for a much better matchup than Philly's ravaged secondary.
33. Wes Welker, WR, Broncos
34. Rob Gronkowski, TE, Patriots: Well, he should return at some point. Here's his rank in case it's this week. Yes, I'd start him right away.
35. Stevan Ridley, RB, Patriots: Got the carries in Week 2, now he has to turn them into something. This rank suggests he will.
36. Steve Smith, WR, Panthers
37. Steve Johnson, WR, Bills
38. Ray Rice, RB, Ravens: Another fellow who isn't a lock to play. If he does, don't expect a full workload.
39. Lamar Miller, RB, Dolphins: Hmm, that Dolphins backfield doesn't look like much of a timeshare now.
40. Trent Richardson, RB, Colts: Welcome to Indy! Your first game is against the 49ers. Good luck with that. The shocking trade helps him, but don't go overboard. He's still averaging only 3.5 yards per carry in his career.
41. Reggie Wayne, WR, Colts: This might be his worst rank all season. Blame the matchup.
42. Jason Witten, TE, Cowboys
43. James Jones, WR, Packers
44. DeAngelo Williams, RB, Panthers: Perhaps you haven't noticed, but he's fifth in the NFL in rushing yards. No, really, he is.
45. Tony Gonzalez, TE, Falcons
46. Hakeem Nicks, WR, Giants
47. Darren McFadden, RB, Raiders
48. Mike Wallace, WR, Dolphins
49. Julian Edelman, WR, Patriots: We knew he'd get the receptions, but a few more yards would be nice.
50. Bernard Pierce, RB, Ravens: If Rice is deemed out, then move Pierce up 20 spots.
51. Daryl Richardson, RB, Rams
52. Joique Bell, RB, Lions: If Bush can't play, then move Bell up 20 spots, too.
53. Anquan Boldin, WR, 49ers: Don't go thinking he isn't special because it was one big game, one nothing game. He just played the Seahawks. He's not playing them again this week.
54. Eric Decker, WR, Broncos: He'll be involved most weeks. His Week 2 performance showed why his owners shouldn't have panicked after Week 1.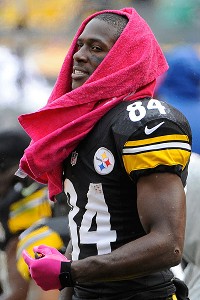 Joe Sargent/Getty Images
Antonio Brown has caught 11 of his 16 targets this season.55. Antonio Brown, WR, Steelers: He complained about his targets this week, which usually means he'll get more of them this week. But don't teach your children that whining is good.
56. Ryan Mathews, RB, Chargers
57. Torrey Smith, WR, Ravens
58. Jordan Cameron, TE, Browns: Certainly a legit top-10 tight end, and the Richardson trade doesn't alter that.
59. T.Y. Hilton, WR, Colts
60. Maurice Jones-Drew, RB, Jaguars: I think he's going to play, though the Seahawks have to be looking forward to this game. They've allowed 10 points; the Jaguars have scored 11.
61. Rashard Mendenhall, RB, Cardinals: Hobbling along at practice this week. Not a good long-term investment.
62. Eddie Royal, WR, Chargers: Well, now that you've claimed him on waivers, use him … unless you realize there are many better choices.
63. Tavon Austin, WR, Rams
64. David Wilson, RB, Giants: I'm getting tired of talking this guy up when it looks like the Giants are so disinterested. That has to change, though.
65. Mike Williams, WR, Buccaneers
66. Ahmad Bradshaw, RB, Colts: He had decent value until the Richardson trade. Now, not so much. Still, give Richardson a game or so to learn the playbook.
67. Giovani Bernard, RB, Bengals: Looked good Monday night, but didn't get many touches.
68. Ben Tate, RB, Texans: He's a backup and he's ninth in the NFL in rushing yards. Think about that in case his touches rise.
69. Miles Austin, WR, Cowboys
70. Roddy White, WR, Falcons: He's just not seeing enough targets as he battles injury.
71. BenJarvus Green-Ellis, RB, Bengals: Only eight players have more rushing attempts, so yeah, he still matters.
72. Greg Jennings, WR, Vikings
73. Lance Moore, WR, Saints: A lot of people want to give up on him. Big mistake. He's just streaky.
74. DeAndre Hopkins, WR, Texans
75. Jared Cook, TE, Rams: We didn't say he'd have a great game every week.
76. James Starks, RB, Packers: As for this guy, we will say he won't have a great game most weeks. Enjoy his five fantasy points this week.
77. Jacquizz Rodgers, RB, Falcons: Not exactly a special player, either.
78. Cecil Shorts, WR, Jaguars: Big disappointment so far, but what can you do with him?
79. Emmanuel Sanders, WR, Steelers
80. Bilal Powell, RB, Jets: Not as if he and the next guy have distinguished themselves so far.
81. Chris Ivory, RB, Jets
82. Antonio Gates, TE, Chargers: Would like to see him have a big game against a better defense than the Eagles before pronouncing him awesome again.
83. Fred Jackson, RB, Bills
84. Denarius Moore, WR, Raiders
85. Chris Givens, WR, Rams
86. Montee Ball, RB, Broncos: It's wise to stash him on your bench for when he does become relevant. It'll happen.
87. Owen Daniels, TE, Texans
88. Golden Tate, WR, Seahawks
89. Josh Gordon, WR, Browns: Returns from suspension to see Brian Hoyer throw the football. Well, at least he's not suspended anymore!
90. Mark Ingram, RB, Saints
91. Kendall Wright, WR, Titans
92. Julius Thomas, TE, Broncos
93. Danny Woodhead, RB, Chargers
94. Leonard Hankerson, WR, Redskins
95. Michael Floyd, WR, Cardinals
96. Kenbrell Thompkins, WR, Patriots
97. Aaron Dobson, WR, Patriots
98. Chris Ogbonnaya, RB, Browns
99. Isaac Redman, RB, Steelers
100. Vernon Davis, TE, 49ers
Others: Brian Hartline, WR, Dolphins; Marlon Brown, WR, Ravens; Greg Olsen, TE, Panthers; Jermichael Finley, TE, Packers; Bobby Rainey, RB, Browns; Jason Snelling, RB, Falcons; Bryce Brown, RB, Eagles; Da'Rel Scott, RB, Giants; Andre Roberts, WR, Cardinals; Stephen Hill, WR, Jets; Robert Turbin, RB, Seahawks; Pierre Thomas, RB, Saints; Daniel Thomas, RB, Dolphins; Sidney Rice, WR, Seahawks; Felix Jones, RB, Steelers; Kenny Britt, WR, Titans; Vincent Brown, WR, Chargers; Ronnie Hillman, RB, Broncos.