The high-flying offensive team that represented the NFC in the last Super Bowl is now saddled with the first losing streak in the Jim Harbaugh era. Last week the San Francisco 49ers were dominated in the rain in Seattle against the Seahawks, which is somewhat understandable. The Seahawks are terrific, especially at their loud home. However, on Sunday the Indianapolis Colts came to the Bay Area and shut down Colin Kaepernick & Co. 27-7. It's the second consecutive week that no 49ers player scored more than 10 standard fantasy points, and it's likely going to push overreacting fantasy owners to either sit Kaepernick, Frank Gore, Anquan Boldin and Vernon Davis for Thursday's matchup at St. Louis, or worse yet trade them for less than full value. That would be a mistake.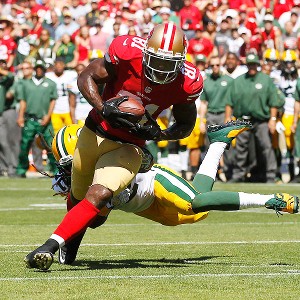 Cary Edmondson/USA TODAY Sports
Anquan Boldin had 13 catches in Week 1 but has had just six since then.
Kaepernick remains a fascinating and intriguing talent, but nine fantasy points in a two-game span isn't supposed to happen to a top-10 quarterback. Well, chances are, many won't view him this way any longer. The problems from the past few Sundays seem somewhat obvious yet potentially fixable by a smart coaching staff. After all, the 49ers aren't panicking, so why should fantasy owners this soon? Kaepernick needs more weapons than Boldin, for one, and defenses know it after the Week 1 performance in which Boldin had 208 receiving yards. Tight end Davis and his balky hamstring did not dress for the blowout loss, the first time he has not played in six years. And receivers Kyle Williams, Marlon Moore and Quinton Patton were rarely open Sunday. Kaepernick completed more than 55 percent of his passes that were 10 yards or more downfield a season ago, but after three games -- and notably without Michael Crabtree -- that number is below 38 percent. Davis, for one, excelled downfield in Week 1, but without him, Kaepernick was 1-for-6 for 30 yards on such plays Sunday.