One might consider the news of a Tampa Bay Buccaneers quarterback change from veteran Josh Freeman to rookie Mike Glennon as potentially devastating to the value of top-five running back Doug Martin and top-10 wide receiver Vincent Jackson, but being the optimistic soul I am, I think it's actually a good thing. Hey, at least it offers hope! Freeman had played miserably this month and many months since his inspiring 2010 season, throwing 42 interceptions in 34 games and making one poor decision after another. When an unknown quarterback takes over, fantasy owners often panic about the effect on his weapons, but there's ample proof that that's an overrated theme.
After all, check out what Cleveland Browns quarterback Brian Hoyer did just a few days ago. Few people even knew who he was, but would wide receiver Josh Gordon have been able to produce monster numbers with Brandon Weeden at the helm? It's not necessarily a recommendation of the quarterback -- statistically or in a supporting role -- to continue trusting those who score the all-important touchdowns and rack up the fantasy numbers. Plus -- as I often say when I refer to Arizona Cardinals quarterback Carson Palmer and his stud receiver, Larry Fitzgerald, and before him the likes of Denarius Moore and Chad Johnson -- the receivers don't get charged with the interceptions. Don't consider Hoyer or Glennon reasonable fantasy options in 10- or 12-team leagues from the get-go, but don't totally dismiss the possibility that they will get there, and don't automatically downgrade their weapons.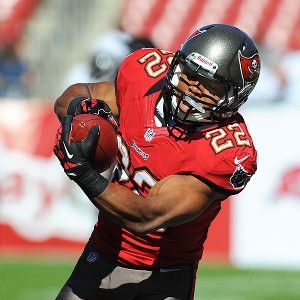 Al Messerschmidt/Getty Images
The Bucs' change at quarterback shouldn't affect Doug Martin; he remains a top-10 running back.
Ultimately, the erratic Freeman was not among my top 25 quarterbacks for this week's matchup against Palmer's Cardinals anyway, and neither is Glennon, the tall, strong-armed third-rounder from North Carolina State who will take over for the rest of the season. Freeman's work is done, fortunately. Glennon doesn't need to be Dan Fouts to keep Martin, Jackson and fellow wide receiver Mike Williams relevant, but then again, it's hard to imagine anyone making poorer decisions than the physically capable Freeman was. Martin remains safely among my top 10 running backs. He has managed to generate double-digit fantasy points in all three games despite his team failing to reach 20 actual points in a contest. Martin is getting a ton of touches -- he's first in rushing attempts, second in rushing yards and has 13 receiving targets -- and that should continue.
Jackson (ribs) and Williams (leg) are a bit beaten up physically and questionable for Sunday's game, but both are expected to play. Well, I ranked each the way I normally would, which is to say Jackson is a borderline top-10 WR option, and the underrated Williams belongs in the top 30. Why change now? Jackson led the league in average yards at the catch a season ago, just like in his San Diego Chargers days, and Glennon shouldn't have a deleterious effect there. Glennon has yet to throw an NFL pass, and nobody will credit him for being mobile -- Freeman provided some rushing numbers previously -- but Jackson is good enough to make plays regardless of who's throwing him the ball. Plus, what if Glennon is really good? Everyone who dismissed Russell Wilson a year ago would like a do-over. I got laughed at for projecting Terrelle Pryor in my top 20 last month. And look at Hoyer so far! Hey, I like this quarterback change for the Buccaneers, and for fantasy as well.
Quarterback: Remember the bye weeks! Two of the top five quarterbacks are off in Week 4, meaning that your opponent might be starting a Pryor, Hoyer or Glennon. That might not be such great news for you after all! … Pryor (concussion) is questionable for this week, though I love the matchup. If Matt Flynn starts, he would not make my top 25 quarterbacks. … Don't assume whoever faces the New Orleans Saints will simply produce top numbers. It hasn't happened yet. I like the Miami Dolphins' Ryan Tannehill, but he didn't make my top 20.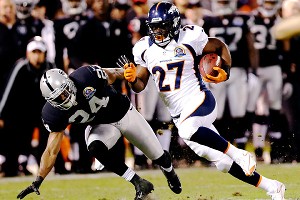 AP Photo/Marcio Jose Sanchez
Knowshon Moreno got only 13 touches in Week 3, but it was more due to the situation than the player.
Running back: People are getting a bit too down on Denver Broncos option Knowshon Moreno for his poor statistical outing Monday. Yes, Montee Ball and Ronnie Hillman played better, but the victory was never in doubt. Moreno didn't need to play much. He's still their top guy, and he's a top-20 RB in my book. … I'm not overrating how average Darren Sproles has looked so far, but I'm not too concerned about his tough matchup with Miami. Still top-20 for me. … Ahmad Bradshaw owners must be really confused at this point. We all ranked Trent Richardson as a starter, and three of us consider Bradshaw a lesser play than Ryan Mathews, just to add some perspective. Hey, most people wanted to cut Bradshaw after the trade. He's not a bad flex. … I haven't totally given up on Daryl Richardson, but I liked 36 other running backs better this week. One of them was his teammate Isaiah Pead. Hey, Richardson had opportunities. I also expect a spirited return to dominant defense for the embarrassed 49ers.
Wide receiver: I also like Anquan Boldin to bounce back against the Rams. Top-20 WR for me. … Josh Gordon is a borderline top-20 wide receiver this week, certainly with upside. I just don't like the Ohio matchup for him. … The Redskins can't defend. It's why Denarius Moore got a nice bump from me this week, and I could see using Rod Streater in a deep league. … Lot of questions about Julian Edelman's value should tight end Rob Gronkowski suit up. I don't think it hurts Edelman one bit. I think when Danny Amendola comes back, it does. … Yes, I ranked three Broncos wide receivers among my top 10. Why try to guess which one won't have a big game? All three should against the Eagles. … We all seem to like Torrey Smith of the Ravens more than usual for this week at Buffalo. I couldn't go as high as No. 12, though. Smith does seem on the verge of a really big performance, having reached 85-plus yards in all three games.