The annoying St. Louis Rams running back situation took another odd twist Wednesday morning when assumed starter Daryl Richardson announced on Twitter that he was not going to be starting in Week 5.
OK, so who is starting for the Rams' tasty matchup against the winless Jacksonville Jaguars? Well, Richardson didn't supply that critical piece of information, but certainly Isaiah Pead figures to be in the equation, or perhaps Benny Cunningham. Pead did not play in Week 4, and it apparently wasn't due to injury.
Rams coach Jeff Fisher told reporters that Pead was a surprise inactive for the Week 4 game -- it was on Thursday, and it went poorly for the Rams against the San Francisco 49ers -- so rookie wide receiver Tavon Austin could get more snaps at running back. Huh? Austin, a top-10 NFL draft pick who ended up getting nary a rushing attempt, has enough problems learning to play wide receiver in the NFL. I applaud the sentiment to get the quick playmaker more touches, perhaps in the way the Minnesota Vikings achieved with Percy Harvin -- um, remember him? -- a year ago, but so far, Austin has just four rushes in four games for 10 yards, and his 23 fantasy points with standard wide receiver numbers ranks him after 49 others at his spot, including ignored teammate Austin Pettis. I have little doubt Austin's future is bright, but even with the Jaguars up next, he ended up ranked 40th by our staff for Week 5.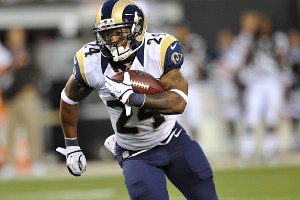 AP Photo/David Richard
Second-year man Isaiah Pead has just 17 carries in 17 career games with the Rams.
Pead has intriguing upside, I suppose, especially in this matchup, but there's no way I want to rely on him when Richardson, who I really liked a month ago, managed to average just 2.7 yards per rush through four games. Last week, he ran for 16 yards on 12 carries. Surely a foot injury hasn't helped, but neither has the offensive line or, for the past two games, the erratic play of quarterback Sam Bradford and his all-or-nothing weapons.
The Rams are 1-3 and trending downward, and I'll be honest, I'm not choosing them in my Eliminator Pool this week. It's a trap game, even at home against a team that has scored 31 points this season. The Detroit Lions scored 30 first-half points in Week 4.
Pead has become the Rams running back I want this week, but I can't rank him near the class of utterly disappointing running backs such as David Wilson and Stevan Ridley. Those guys are incredibly in the top 25 for Week 5 -- guilty! -- because there are frighteningly few options and three top-10 running backs are on bye. Is Pead a decent add in case things work out? Sure, perhaps he explodes for 100 rushing yards Sunday and becomes a popular add next week. The Jaguars have permitted the 10th-most fantasy points to running backs this season. You know which team has allowed the most? That's right, it's the Rams. Maurice Jones-Drew is my No. 13 running back for the week. Pead is safely outside my top 30 for Sunday because it's impossible to know whether he gets 20 touches or two, and when in doubt, that's the number to look at entering a game. Richardson will be involved as well, I presume, and Cunningham, too. So far it hasn't really mattered whom the Rams use at running back, and it might not matter much this week either.
Quarterback: The staff seldom disagrees about who the top-10 passers are. Indy's Andrew Luck is a clear downgrade this week against the Seattle Seahawks. We all think Terrelle Pryor is a darn good option, even though he's listed as questionable and his game starts minutes before midnight ET Sunday. That start time is just ridiculous. Make sure Pryor is going to be active before you pass on your early Sunday choices, even Eli Manning or Matt Schaub.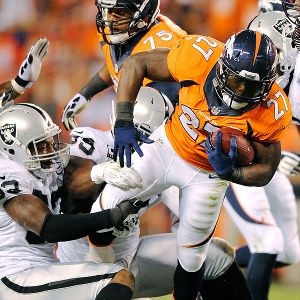 AP Photo/Jack Dempsey
Knowshon Moreno has broken into Eric's top 10 at running back.
Running back: Here it gets trickier, starting with the Buffalo Bills situation Thursday. I did not rank C.J. Spiller. I don't know for sure if he plays or not, but if he does, he wouldn't make my top 15. I expect Fred Jackson to play, and he is top-20. Point is, if Spiller does play, he's not an awesome fantasy start. And I don't expect much from Tashard Choice, even if he gets a lot of carries. The Browns are fifth toughest to accrue running back fantasy points against. … Knowshon Moreno is top-10, though. What more proof do we need? Rookie Montee Ball gets garbage-time carries, and that's it. Expecting those carries each week is risky. … How does David Wilson earn a No. 21 rank? Two reasons: One, the Eagles can't defend. The Giants did cut Da'Rel Scott, which should garner Wilson more touches. And two, find me 21 better running back plays this week. Go ahead. They don't exist. Wilson looked reasonable in Week 4 and is a reasonable RB2 this week. … Good luck relying on Darren McFadden. I doubt he plays. He rarely has been called a quick healer in the past. But you can't take the risk with the game starting so late. And before you get excited about Rashad Jennings, remember that, ahem, he's Rashad Jennings.
Wide receiver: Hakeem Nicks fans seem awfully excited about Sunday's matchup with Philly, but Nicks really hasn't done much lately. Yes, it's an enticing matchup, but it's tough to view him as a top-20 receiver. … Hey, Justin Blackmon is starting this week! Hey, he's still not a top-30 option! … Roddy White plays every week, but now he's ranked worse than Jeremy Kerley, Nate Washington and Blackmon. How embarrassing. This isn't the matchup to get him going. … Nearly half my top 10 receivers this week are Broncos and Packers. That Lions-Packers game should be a blast. Just don't expect much from Ryan Broyles after he burned many of you in Week 4. I didn't even rank him. … It's not looking likely that Rob Gronkowski plays this week, but Danny Amendola could. If you're an Amendola owner, don't overrate him. He is barely top 20 but is over Julian Edelman. I don't think rookie Kenbrell Thompkins is hurt much by injured teammates returning, though. They're not deep threats like he is.