Poor Dallas Cowboys quarterback Tony Romo just can't get a break. While the talk Monday will be about Romo's crucial late-game interception that led to the Denver Broncos escaping Big D -- actually, there was little D, as in defense, here -- with an exciting 51-48 win, the fact is Romo delivered one of the top quarterback performances in franchise -- and recent fantasy -- memory. Romo lost the game -- of course he did, right? -- but he will win many fantasy owners their Week 5 contests by having scored 40 fantasy points. Let's not bury Romo but rather praise him, for he has been a consistent, reliable asset in our game for years, and his performance Sunday is a likely harbinger of more good things to come.
Through four weeks, Romo was a top-10 fantasy quarterback, which stands right in line with much of his underrated career, at least statistically. In fact, he has finished among the top eight fantasy quarterbacks three of the past four seasons. However, Romo is seldom viewed for his successes, statistically or otherwise. This season, 11 quarterbacks, on average, were chosen before him in ESPN live drafts, and among the players at other positions deemed more preferable but already looking like busts are Chris Ivory and Kyle Rudolph. Romo just keeps on producing fantasy numbers, and three of his weapons were able to amass more than 100 receiving yards and a touchdown catch Sunday.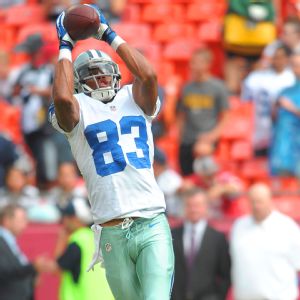 Denny Medley/USA TODAY Sports
Terrance Williams is owned in just 1.3 percent of ESPN standard leagues.