The way the sly New England Patriots do business, it's downright impossible to know whether tight end Rob Gronkowski will really suit up and play in Week 6 against the New Orleans Saints, and perhaps we won't know before the 1 p.m. ET games begin. And even if he does play, are we talking about 15 snaps or 50? Hey, it makes a difference for fantasy owners, especially the ones debating Gronkowski's value versus the potential fantasy replacement, perhaps one of the surprise -- but legitimate -- tight end stars added off free agency early on, such as the Denver Broncos' Julius Thomas and Cleveland Browns' Jordan Cameron.
The fact is that as of Wednesday, Gronkowski still wasn't a full participant in the team's practices as he recovers from arm and back injuries. The Patriots host the Saints in a 4:25 p.m. ET tilt Sunday and, well, let's just say I'd be really careful in relying on Gronkowski for this week. I ranked him in the top 10, but the other fellows in that class are pretty obvious plays, and most will perform in earlier games. You might find it too much of a risk to wait on Gronkowski, a fact that is also reflected in Tristan H. Cockcroft's rankings this week.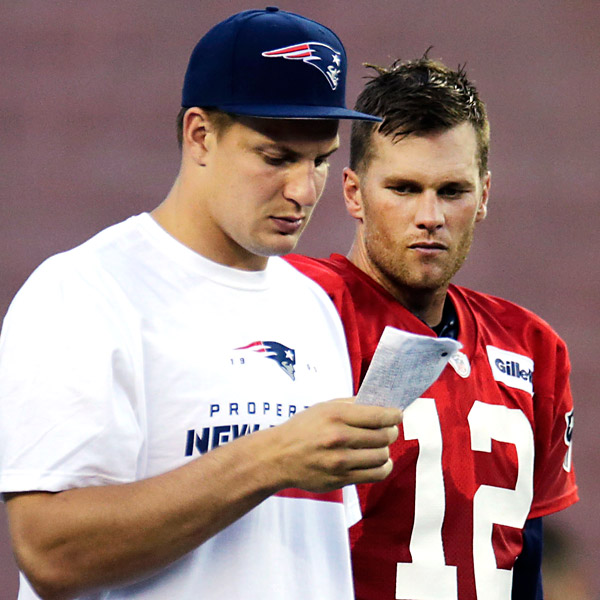 AP Photo/Charles Krupa
Will Tom Brady (right) get star tight end Rob Gronkowski back this week? We might not know for sure until Sunday afternoon.
Let's face it, Patriots coach Bill Belichick doesn't seem in full control of this situation, either. The Patriots have managed to win four of five games heading into this showdown with Drew Brees and what has become a solid, respectable Saints defense, but they've done so with the worst production from tight end in the NFL. Preseason fave Zach Sudfeld never caught a pass -- that's about the worst August misread in fantasy circles I can recall -- and is now a buried New York Jet. Michael Hoomanawanui and Matthew Mulligan, not quite household names, have five receptions between them as Tom Brady's lone tight end targets.
And the Saints are no joke. They've hardly faced juggernaut offenses, but no team has scored 20 points on them. They're eighth toughest for opposing quarterbacks to accrue fantasy points against -- and Brady is coming off a miserable five-point fantasy performance -- and at tight end, the Saints are permitting 5.6 fantasy points per game, also among the 10 best. A healthy, thriving Gronkowski would be a no-brainer play regardless of foe, but this isn't that situation. I don't see Brady as a surefire play, either, which is why he barely made the staff top 10. I think Gronk ultimately catches a few passes, and if he scores a touchdown, then he's worth it. If not, then he's no better than Greg Olsen, which is pretty telling.
I'm betting many Gronkowski owners -- he's owned in all leagues -- would like to redo their draft when it comes to Gronk and the tight end position. The Patriots already have played five games, more than a third of the fantasy regular season, and that fifth-round fantasy pick could have been spent on something else to help the first month-plus. It's too late to go back now, of course, and I'll stop a bit short of selling on one of the game's most dynamic players today and "taking your best offer," but the fact is this situation worries me. I feel Gronkowski is doomed to disappoint on Sunday -- if he even plays -- and we're unlikely to see the fellow who warranted fantasy MVP consideration in 2011, and thrived the first half of last season. Yeah, I'd consider another tight end Sunday -- perhaps 10 others -- and several other for the rest of this season. There's reward at the end of the risk, but quite a bit of each.
Quarterback: Well, it seems like any player against the New York Giants is a worthy play, so if you have the Chicago Bears' Jay Cutler, this week, it seems like a prime time to use him. I thought about him for my top 10, but then I remember the fact that even the Giants can intercept a pass or two. … I didn't rank the Washington Redskins' Robert Griffin III quite as strongly as others, because I don't think he's leading his team to 51 points. Or even 31 points. He's not Peyton Manning. He's still in my top 10, though. … Important week for Colin Kaepernick. He's not in anyone's top 10 anymore but can alter opinions this week. … One can do worse than use Chad Henne and Mike Glennon this week. Henne will need to throw 50 times to keep up with Manning, and Glennon is at home against Philly. Upset special there.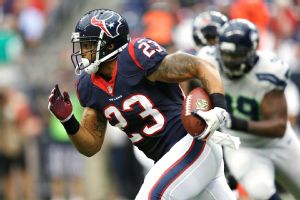 AP Photo/David J. Phillip
Look for Arian Foster to have a big game in Week 6.
Running back: Arian Foster is going to eat up the St. Louis Rams this week. One has to think he gets many carries against a bad rush defense. And you'll see Philly's LeSean McCoy didn't fare so well in the rankings. It's on the road, and he did little once Michael Vick left Sunday's game. Still, he's in the top 10, just not the top three. Foster is. … Three of the four rankers went with Fred Jackson over C.J. Spiller, including myself. Very interesting. Still buying low on Spiller? I am, but I am thinking twice about it. … I'm wary about Stevan Ridley, but this isn't like the Gronkowski situation. The word is Ridley is likely to play, and he should get plenty of touches. … I don't see Rashad Jennings as even a decent play at Kansas City this week, even if he plays. I'd prefer Marcel Reece. And nobody ranked Darren McFadden. … Andre Ellington ended up ranked about the same as teammate Rashard Mendenhall, but the bottom line with the Arizona running backs is that neither is a great option in San Francisco.
Wide receiver: Two rankers chose Cecil Shorts over Justin Blackmon, which means two did not. Interesting, eh? I'll say this: I don't think the Jaguars can win in Denver, but I do think both wide receivers can put up top-30 numbers, probably better. Each was ranked in the top 30. … A few weeks ago, Vincent Jackson was a top-10 guy. Now he's barely top 20 against a terrible Philly D. I'm thinking, however, that I've underrated Jackson at 19 this week. … Same with Andre Johnson. The Matt Schaub interceptions aren't charged to him, and I'm thoroughly unimpressed with the Rams' defense. … Liking Keenan Allen this week, as well as Terrance Williams, though there is considerable depth at wide receiver this week, more than normal.