It's hard to remember the last time fantasy owners liked a Green Bay Packers running back more than any of their wide receivers, but such is the case in my rankings for Week 7. The Packers are a bit beaten up on the outside, with Randall Cobb out until at least Thanksgiving and James Jones no sure thing to suit up against a tough Cleveland Browns defense that features cornerback Joe Haden and routinely shuts down opposing wide receivers. So it is that Nelson misses my top 10 -- I have two New York Giants wide receivers, in a far more attractive matchup, ahead of him -- and running back Eddie Lacy gets a shot in my top 10.
Yes, it looks odd, but Lacy is getting a ton of touches, and I think it's time we dispense with two things: (1) the Packers can run now that they have someone capable of big things; and (2) not all rookies are unreliable. If we can't rely on rookie running backs, frankly, then there aren't enough running backs to rely on. In fact, there probably aren't anyway. Lacy missed Week 3 because of a concussion and the team was on bye the week after, and since then he has 24 touches in each of two Packers wins, averaging 110 yards rushing. This is a new Packers team, and Lacy is the focal point of the offense, not Aaron Rodgers and his wide receivers. The Packers are 10th in the league in rushing offense, and 12th on the passing side, and if anything, that difference is about to become greater.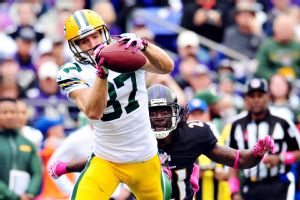 Evan Habeeb/USA TODAY Sports
Sure, Jordy Nelson now must be considered the top wide receiver option in Green Bay, but he has a tough matchup this week.
Nelson's biggest problem this week is Haden. As such, it's a tad risky to assume his targets will simply rise to top levels just because the team's depth has been threatened. And no, it doesn't mean someone like Jarrett Boykin -- whom a few of us ranked (albeit barely) -- will take over instead. Nelson begins the week seventh among wide receivers in standard scoring, but tied for 40th in targets. He overcame this odd ratio in 2011, when he scored 15 touchdowns, and perhaps he does it again. I'm just being a bit cautious on this one. Hakeem Nicks should have a big game against the Minnesota Vikings, and with trade talks surrounding the pending free agent, you bet I think he has something to prove. How about Reggie Wayne against his former quarterback Sunday night? There's a big game coming. And when's the last time a Browns wide receiver ranked ahead of any Packers option? Well, Josh Gordon is really good, and while I like the Packers defense this week, Gordon should still post solid numbers.
Lacy, of course, isn't the lone rookie fantasy owners are forced to rely on. The Pittsburgh Steelers' Le'Veon Bell is in a similar situation, but with a lesser offensive line and quarterback. Still, he's close to weekly RB2 status. The St. Louis Rams' Zac Stacy has consecutive weeks of many rushing attempts as well, and fits well as a flex choice. The Cincinnati Bengals' Giovani Bernard and Arizona Cardinals' Andre Ellington remain in timeshares, but are clear top-20 options in PPR formats. Yeah, we've also seen what happened to Denver Broncos disappointment Montee Ball, but that has nothing to do with the other guys. The Packers' Lacy has looked really good of late. It's time to trust him.
Quarterback: I can't recall the last time Rodgers wasn't among my top five passers in the rankings, but it happened this week. No matter, you're starting him anyway. … Are you starting Tom Brady? The Rob Gronkowski circus is never-ending, and the highest rank by the staff this week on Brady was 10th. We all liked Robert Griffin III more -- he's running well now! -- and three of us went with the Chicago Bears' Jay Cutler. Now that's telling. … Need a fill-in for Drew Brees (by week)? Eli Manning is good for a few interceptions per week, but he should also tally 300 passing yards and a few scores on the Vikings. … Josh Freeman should make his Vikings debut, and you can't get a better matchup. He makes the top 20 for three of us. Glad I kept him as my backup quarterback in a 20-team league even after the Tampa Bay Buccaneers cut him!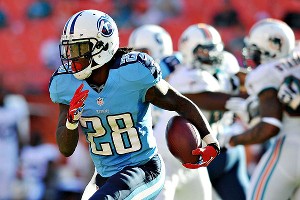 Steve Mitchell/US Presswire
Chris Johnson remains among Eric's top 20 running backs despite having what many perceive to be a tough matchup this week (the 49ers).
Running back: The Dallas Cowboys will rely on rookie Joseph Randle in a sweet matchup in Philadelphia, but I couldn't consider him for top-20 status. He's raw and didn't look good in Week 6. Tony Romo will have no such issues. … The rank I might feel the worst about? Indy's Trent Richardson at 14. He's no Knowshon Moreno, but I couldn't rank Stevan Ridley or DeAngelo Williams, despite the latter's matchup, better. Good luck with your RB2 this week! … Chris Johnson looks awful running the ball, and I'm sure the opposing San Francisco 49ers have noticed. So why is Johnson in my top 20? The 49ers are permitting the 10th-most fantasy points to running backs, and it would be so Johnson-like for him to break out in what appears to be the toughest matchup. Still, I ranked him 18th, so I didn't exactly go overboard, either. … Later, I seem to like Maurice Jones-Drew, BenJarvus Green-Ellis and Jacquizz Rodgers more than my colleagues. Sometimes it's all about the touches. Each is capable of a touchdown.
Wide receiver: It again seems strange to see the Detroit Lions' Calvin Johnson missing everyone's top five, but the stats don't lie. … I'm going with Antonio Brown in my top 10 because only eight defenses allow more fantasy points to wide receivers than the Baltimore Ravens, and clearly the targets are there. … Larry Fitzgerald against the Seahawks and with a hamstring injury doesn't seem like a fair fight, but Fitz looked good totaling 117 receiving yards and a score in San Fran last week. I'm not an "always trust your studs" fellow, but they play Thursday, so you'll know early if he's active. If this was a Monday game, I'd sit him based on the risk. … Many Alshon Jeffery owners are likely to sit their recent free-agent pickup because he did little in Week 6. Well, he didn't get to face the Redskins defense! Perfect opportunity to acquire Jeffery at a lower rate with a great matchup pending. … People might wonder why I ranked Greg Jennings at No. 25, despite having one decent game all season. I like Freeman, who is erratic and mistake-prone but has a strong arm, to find him, and I like the Giants to let it all happen.