Atlanta Falcons running back Steven Jackson scared me as a second-round pick in August, and now, after he has missed five weeks (so far) because of a hamstring injury -- four full games and the bye week -- I'm no less concerned.
The difference is that the running back position is far worse in terms of depth and reliable assets than we could have imagined even two months ago. Jackson was scheduled to practice Wednesday, which is heartwarmingly optimistic, but fantasy owners are so desperate that if we get assured word later in the week that he's playing Sunday against the Arizona Cardinals, I'm guessing he'll be in many lineups. Perhaps too many.
Let's rewind a bit. My concerns about Jackson were pretty clear, and they've come to fruition so far. It wasn't merely that 30-year-old running backs tend to see a decline in performance once they hit that magical age -- I'll let you know if my ability to blog effectively is hampered when I, ahem, hit 30 -- but it also gets tougher to recover from injuries. This is a hamstring injury, and there are varying degrees of those. But given Jackson's age, comparing his affliction with, say, 27-year-old Houston Texans running back Arian Foster, who might not miss any games despite his hamstring problem, is not wise.
Jackson looked fine in Week 1 rushing for 77 yards on 11 carries against the New Orleans Saints, a defense that figured to be a patsy but has actually thrived, then got hurt in Week 2 after only a few plays. It's tough to read into anything we saw the first two weeks performance-wise, so I harken back to the preseason concerns.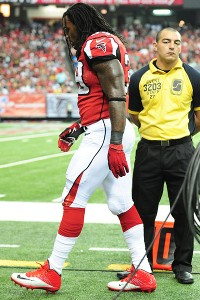 Scott Cunningham/Getty Images
When we last saw Steven Jackson (Sept. 15), he was limping off the field with a hamstring injury.
I ranked Jackson 21st at his position for this week, and that's assuming he plays and receives a generous workload. If Jackson misses the game, that's pretty much the ballpark ranking I would assign for him when he does return.
The Falcons figure to use the guy quite a bit to run the ball; as a team, the disappointing 2-4 Falcons are last in the NFL in rushing yards and have the fewest attempts. Three teams have more than twice as many attempts. Jacquizz Rodgers and Jason Snelling combined for 30 rushing yards in Week 7, each averaging two yards per tote.
Jackson will get opportunities, but I'd say his fantasy upside is modestly lower than it was in August, when I initially ranked him 15th among running backs (while others had him in the top 10).
Rodgers has 25 receptions, tied for seventh-most among running backs. Don't expect that theme to change. In fact, Rodgers remains a decent flex option -- I put him 25th among running backs -- regardless of Jackson's situation.
With six NFL teams on bye this week and next, that forces fantasy owners to play options they normally would ignore. Heck, I was forced to rank myriad options I'd usually ignore. It seems like Buffalo Bills running back C.J. Spiller long ago wore out his top-20 welcome, but I couldn't find 20 running backs I preferred more for this week. Youngster Zac Stacy, the man apparently replacing Jackson in St. Louis, has 49 rushing attempts in three weeks with nary a touchdown, but that warranted top-20 status from the staff. Dallas Cowboys rook Joseph Randle has 30 carries in two weeks, and even he fared better in our ranks.
I can understand why a fantasy owner would rely on Jackson this week; in fact, I'll be forced to do so in one deep league in which he was a keeper and I didn't have many RB choices available. But I remain a bit skeptical in terms of his overall value. Hmm, might not be a bad time to try to trade Jackson before he plays another game, if the wishful thinking value meter is high for someone else!
Quarterback: We rank 25 quarterbacks each week, and this week there are only 26 starters! So it is that Jason Campbell, replacing the horrid Brandon Weeden in Cleveland, is my No. 25. No, I don't feel good about it at all. Who missed? Kellen Clemens against Seattle. Hard to see that going well. … My top 10 quarterbacks nearly match the consensus, but I did like Alex Smith a bit more than the others and Carson Palmer a bit less.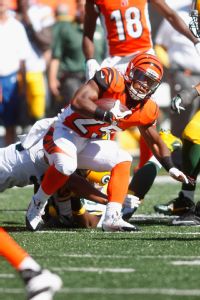 John Grieshop/Getty Images
Bengals rookie Gio Bernard has averaged 15.6 touches per game in the past five games.
Running back: It's tough to find 20 decent running backs to fill the top 20. I took a small leap of faith on Darren Sproles and Giovani Bernard for my top 15, though. When in doubt, go with the guys who catch the football, too. … I understand why DeAngelo Williams made our top 20, but really, he hasn't done much in a month. I'm close to thinking Mike Tolbert is a better fantasy asset. … As for Mike James, I have no idea what he'll do, so I couldn't make him a top-20 running back. Could he get 18 touches and score a touchdown? Sure he could. Could he get eight touches and share with Brian Leonard? Yep. I went with BenJarvus Green-Ellis and Lamar Miller instead. I trust them more, which is saying something. … I ranked Peyton Hillis 33rd and Brandon Jacobs 34th, but I urge you to ignore these guys. … As for lower-ranked threats, I remain hopeful Dallas' Lance Dunbar matters. Supposedly he is playing this week. I also think it's interesting the Raiders talked up Marcel Reece this week, so I ranked him.
Wide receiver: Harry Douglas, top-20 wide receiver. It's true! A few guys joining Douglas in WR2 range who might not deserve it are Marques Colston, Larry Fitzgerald and Josh Gordon. I think Colston has to do better than the two total fantasy points he's produced in his past two games. He and the Saints face Buffalo, which is a good thing. I think Fitzgerald is capable of more consistency, and I like his matchup as well (Atlanta). With Gordon, well, I've seen Campbell play before, and I still think if half the 12 targets Gordon regularly sees can be caught, he can turn into something. Gordon is very good. … I admit I might have under-ranked Jarrett Boykin, Terrance Williams and Rueben Randle. I just think it's far from safe that their quarterbacks get them many targets. … Finally, I haven't given up on James Jones playing or Hakeem Nicks improving.