Fantasy analysts often cite small sample sizes as reasons to avoid believing in a certain player or team, but by Week 11, this is really no longer an issue. For example, we know which players aren't likely to turn things around -- such as Ray Rice and Trent Richardson -- and which teams can and can't stop opposing passing and running games. As such, my quarterback rankings might look a bit odd this week in relation to others, with some big names having been passed by, well, some "non-big" names. Nick Foles and Case Keenum are in my top 10, Tom Brady is not. Sometimes it really is all about the matchups, and I think the Carolina Panthers are a scary matchup.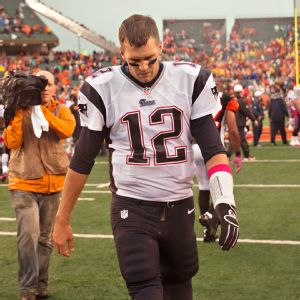 Matthew J. Lee/Getty Images
Facts are facts: Tom Brady has scored in the single digits (standard fantasy scoring) in three of his past five games.
I'm actually a tad surprised in the confidence others have in Brady this week as his New England Patriots travel to face those defensive-minded Panthers on Monday night. The Panthers are good. Really good. No team has allowed fewer fantasy points to opposing quarterbacks and wide receivers, and only a handful allow fewer fantasy points to running backs. Sure, the Patriots scored 55 points at home against the Pittsburgh Steelers in their last game, and many a fantasy owner will blindly trust future Hall of Famer Brady, who threw for 432 yards and four touchdowns that fine day. But he's still not even close to a top-10 quarterback in fantasy scoring for the season, and he has the toughest matchup out there.
The Kansas City Chiefs and Seattle Seahawks play great defense, but check out the Panthers. Last week they went across the country to San Francisco and held Colin Kaepernick, who incidentally has only one fewer fantasy point than Brady this season, to 91 passing yards and just two fantasy points. In fact, the Panthers haven't allowed more than 15 fantasy points to any quarterback in a game this season! I grant you that they haven't played Drew Brees or the good Manning, but still. Meanwhile, Brady has more than 15 points in a mere two of nine games. Sorry, give me Tampa Bay Buccaneers rookie Mike Glennon instead; before Monday night, he had four consecutive performances of 15 fantasy points or better, and now he faces the terrible Atlanta Falcons. Big, big matchup difference there. This isn't about historical achievements or loyalty. It's about Week 11 fantasy points.
It's certainly possible that Brady's performance in his last game translates to 20-plus fantasy points against the Panthers and the rest of the way, but I'm selling here. After all, comparing Kaepernick to Brady is apples to oranges. I just think by Week 11 -- and really, six weeks earlier -- we dispense with the deep past and the preseason rankings and trust the cold, hard facts. The Patriots, lest we forget, have struggled offensively this season, save for their last game. The Panthers, meanwhile, have dominated defensively. Perhaps Stevan Ridley breaks a long run or scores a touchdown to validate his performance. He did, after all, make my top 20 running backs, though somewhat due to the fact that I simply couldn't find 20 others I liked. But Danny Amendola or Aaron Dobson against this defense? I'll pass. I'll stick with Rob Gronkowski, since the Panthers haven't been as awesome against that position, and Gronk is, when he's on the field at least, special. But be wary of his teammates.
Quarterback: Peyton Manning scares me, I have to admit. I trust that he's healthy enough this week to produce worthy numbers against the awesome Chiefs, but you bet I'd make sure I had a strong backup for December. The way he's limping around, I think it's more than Manning's Week 17 that is in jeopardy. … Philly's Foles isn't in my top 10 because he's "hot." I don't buy the whole "hot quarterback" thing. Ask anyone who fell for the Andy Dalton act a few weeks ago about that. But I like Foles' matchup this week, and while he was awfully fortunate on a few of his passes at Green Bay, he's not turning the ball over, either. I also don't buy home/road splits. Playing well at home is not a skill. … Why Glennon? Well, look at the Falcons! Not to mention the Buccaneers aren't going to waste the awesome skills of Vincent Jackson. This doesn't mean Glennon is better than Tom Brady; it simply means he's a better option for Week 11. Matchups matter, folks. … I'm off the Terrelle Pryor bandwagon. He threw so poorly in Week 10 -- even by his standards -- that I'm wondering when Matthew McGloin will come in. It'd probably take an injury for that to happen.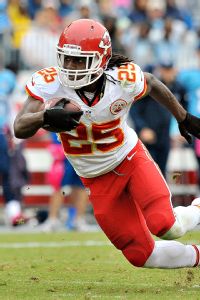 Jim Brown/USA TODAY Sports
There's no reason for concern that Jamaal Charles is facing the league's fourth-best run defense in terms of rushing yards allowed.
Running back: I wouldn't go out of my way to sit Knowshon Moreno, but yeah, facing that Chiefs defense matters. You bet it does. Someone asked me about sitting Jamaal Charles, noting that the Broncos do well against the run. You know why that is? Because the Broncos score so much that other teams have to pass to keep up. This week, though, the Chiefs will run the ball. … Andre Brown, Ben Tate and Chris Ivory are top-20 running backs this week. Think about that. Hey, in their cases, opportunity meets matchup. … Don't shy away from Miami's Lamar Miller. Yeah, he was awful on Monday, but he's just inconsistent. He's not Trent Richardson. And the Dolphins have nice matchups the rest of the season. Miller will matter. Don't sit him because of one bad game. … I nearly ranked Bernard Pierce better than Ray Rice. What's the risk? Rice is doing very little. I actually think it'll be a more equal timeshare this week. … I don't care how good the matchup is for Richardson. Has anyone been watching him play? I felt dirty ranking him at all. He has 99 rushing yards in his past four games! … If the Patriots were playing an average defense, I'd like Shane Vereen as a potential top-35 guy. They're not, as previously detailed. … You're making a mistake if you're relying on Mark Ingram. Sell high. Quickly.
Wide receiver: Percy Harvin hasn't played a game all season. I see the upside and the revenge angle against his former Minnesota Vikings teammates, but top-20 receiver? No. I'm not confident he plays a lot. I'm not even confident he plays. Give me Golden Tate instead, definitely, and if I miss Harvin's Tavon Austin-like breakout performance, so be it. … I understand those arguing this is the week Dwayne Bowe does something good (on the field), because it could be a shootout in Denver. But I don't think it will be a shootout. … Part of the reason I like Josh McCown this week is because Alshon Jeffery is so good; he's such a great complement to Brandon Marshall. If Brady had those weapons, the opposing defense wouldn't matter as much. … Similarly, the Bears can't stop the passing game. Torrey Smith is scoring a touchdown this week. I should have ranked Marlon Brown in the top 40, too.