It was around this time a year ago that fantasy owners were officially tired of running back Rashad Jennings. Then the starter for the Jacksonville Jaguars, Jennings replaced an injured Maurice Jones-Drew, but he did little with his opportunity despite getting enough touches and having decent matchups to succeed. Then Jennings' season ended because of a shoulder problem and most fantasy owners were happy to forget his name. Well, that guy is my No. 11 running back in the Week 12 rankings, one spot behind Tennessee Titans star Chris Johnson, whose team travels to the Bay Area to face Jennings' Oakland Raiders.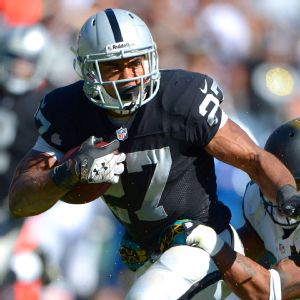 Kirby Lee/USA TODAY Sports
Rashad Jennings has rushed for 340 yards over his past three games.
If it sounds strange that Jennings could go from irrelevant to nearly an RB1 so quickly, well, you haven't been paying attention to the strange running back position this wacky season. Quarterback and wide receiver performance has been fairly predictable. Sure, there's the occasional shocker, the unsung youngster becoming reliable (Mike Glennon, Alshon Jeffery) and the safe veteran becoming unreliable (Eli Manning, Mike Wallace), but at running back, half of the original top 10 tortured fantasy owners, and new names -- or old names resurfacing -- became impact plays in minutes. Guys like Jennings, Zac Stacy, Andre Brown, Ben Tate and Bobby Rainey have become instant stars. Just look at the rankings! Rainey is our No. 21 running back, and two weeks ago he was unranked.
These guys are saving fantasy owners. Jennings, for all his underachieving in Jacksonville, has provided a pair of 20-plus-point (standard scoring) fantasy efforts this month. Johnson and the Seattle Seahawks' Marshawn Lynch are the only other running backs to do this in November. So if you're wondering how Rashad Jennings nearly made my top 10, well, that's how!
With the way the annoying running back position has gone this season, perhaps this sets us all up for Jennings to rush 13 times for 6 yards, like C.J. Spiller did in Week 11, or worse yet, to simply lose the touches to Darren McFadden, the brittle starter whose balky hamstring opened this opportunity for Jennings, an overlooked free-agent signing, in the first place. Wait, McFadden's hurt? No way! Yes, it's true, as shocking as that seems. And McFadden's history of returning slowly from injuries is well established. Raiders coach Dennis Allen told reporters Monday that Jennings "has earned the right to carry the ball … he's going to get his touches," which is awesome, but we should be conditioned by now to never believe a coach. Suuuuuure, and Andre Brown will be worked back in slowly. Regardless, I don't see McFadden playing this week, and Jennings, who has totaled 176, 107 and 148 yards the past three weeks, gets to face a Titans defense that allows nearly 20 points per game to opposing running backs, fifth-most in the NFL, and has permitted two touchdowns to running backs in each of the past five games! What could go wrong?
Well, in the name of Andre Ellington, Brian Leonard, Steven Jackson, Lamar Miller and, of course, Trent Richardson, let's not answer that last question. Things go awry constantly. But based on the information we do know, Rashad Jennings, one of the most added players over the past seven days but still available in a good 40 percent of standard leagues, is a very nice play this week. Believe it!
Quarterback: I liked the way Raiders quarterback and Penn State product Matt McGloin played in his starting debut, but the Titans are far more difficult to throw against. If McGloin keeps the job over Terrelle Pryor, I could see the occasional top-20 ranking for him in future weeks. Just not in Week 12. … I keep sounding the bell for Tampa Bay Buccaneers rookie Glennon, the guy with five 15-point fantasy performances in six weeks -- has your starting QB done this? -- and he reaches top-10 status for me this week as he heads to Detroit. The Lions can be thrown on, in case you haven't noticed. Vincent Jackson has to be licking his proverbial chops. … Drew Brees over Peyton Manning this week? Oh, Brees plays the Falcons. Ah, makes sense! I'd probably start Shane Falco against the Falcons. … I'm not off the Colin Kaepernick bandwagon, but the Redskins aren't the defensive sieve they were two months ago (when they faced a healthy Michael Vick, Aaron Rodgers and Matthew Stafford). I just like 10 other quarterbacks better than Kaepernick. … If Case Keenum was playing at Seattle, he wouldn't be my No. 13 QB. It's Jacksonville. And with the backlash on Keenum being yanked for Matt Schaub, I doubt that happens again. … Sorry, but I cannot trust the erratic Carson Palmer like my colleagues are. Don't we have sufficient evidence of his inconsistency?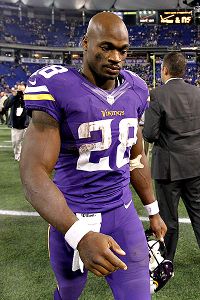 AP Photo/Ann Heisenfelt
Of course you start Adrian Peterson this week (if he plays), but curb your expectations.
Running back: You bet I'm hedging just a bit on the great Adrian Peterson and his groin injury that he claims has him at 65 percent. Of course, given his immense upside, I still had to rank him third. But I could see him sitting out half the game again when Scott Tolzien blows up the Vikings' sorry defense. By the way, I ranked Toby Gerhart, just in case, but if it's clear that Peterson is fine by Friday, I'll remove him. … Zac Stacy is our No. 6 running back. Could you have imagined that in September? … I'm sticking with Reggie Bush. He's obviously very sorry he fumbled the ball, but the Lions did nothing in the second half with him benched. He's still a top-10 RB to me. … The Ravens can be run on, Chris Ivory can run, and it's clear he's the lead ball carrier now. Bilal Powell better not get 25 touches! … Shane Vereen is essentially in a platoon with LeGarrette Blount. Vereen catches the ball, Blount runs it. But Stevan Ridley is safe. I think. … Is Steven Jackson a top-30 running back? How can he be considered one, given his body of work this season? Give me the emerging Chris Ogbonnaya instead.
Wide receiver: There's so much depth here that it's tough to suddenly exalt an ordinary option over safe ones. The top 20 is typical. I like Harry Douglas, Jarrett Boykin, James Jones and Hakeem Nicks more than most. Tolzien, all jokes aside, has been fine throwing the football, but the Vikings haven't been fine defending it. And no, I don't think Roddy White is better than Douglas. As for Nicks, watch the Cowboys and Giants put up 30-plus points against each other. … Dwayne Bowe as a potential flex? Well, the matchup against the Chargers is kind. But I'm hesitant to consider him a flex option. … Nate Burleson and Miles Austin are both expected to play this week. Of course, I ranked them 49th and 50th, respectively. Let's just say you shouldn't tear up your roster to get them active.