The last time Matt Flynn started a game for the Green Bay Packers, it went fairly well. It was pretty much historic, actually. Flynn threw for 480 yards and six touchdowns in a Week 17 game against the Detroit Lions to end the 2011 regular season, setting himself up for wondrous future riches elsewhere. The journey has been a bumpy one since leaving Lambeau, but hey, his accountant isn't complaining. On Thursday, Flynn is slated to start again, with all the world watching in the first of the Thanksgiving Day games, and while I'll take the under -- way under -- on another 39 fantasy points (nearly half his career total!) I do expect a fantasy-relevant performance.
Flynn's arm strength isn't really what scouts would call a strength, but it should be good enough to make at least two and perhaps all three of his main wide receivers relevant for our purposes. In the Week 13 rankings, Flynn barely made our consensus top-20 quarterbacks. I have him 18th. Yeah, I could definitely see 15 fantasy points pending. But the real key is relying on Jordy Nelson, Jarrett Boykin and James Jones. I ranked them 11th, 18th and 25th, respectively, with the latter two marks being the best of the group, signifying a bit more trust. Why not? The Lions have been brutal defensively for months; while the Philadelphia Eagles are permitting the most fantasy points to wide receivers for the season, the recent trends say the Lions are considerably worse. Wide receivers have accrued more than 30 points against Detroit in six of eight games, and 12 touchdown receptions over five outings.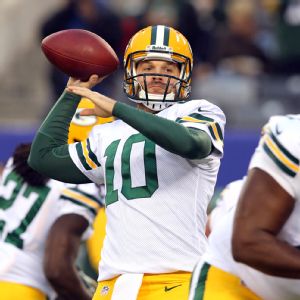 Brad Penner/USA TODAY Sports
Matt Flynn helped spark a rally from a 16-point deficit early in the fourth quarter in the Packers' tie with the Vikings on Sunday.
The question can reasonably be asked whether Nelson is even the top Packers wide receiver at this point. After all, fantasy owners and analysts shouldn't simply trust something the statistics don't support. The awesome Aaron Rodgers last played a full game in Week 8 at Minnesota. Nelson hasn't caught a touchdown pass since, and topped 70 receiving yards in just one of the four games, totaling 27 fantasy points. Boykin, the most-dropped option in fantasy entering Week 10, has 33 fantasy points in that span, 32 of them the past three weeks. Boykin isn't being used exclusively out of the slot like the injured Randall Cobb was, but he's also not a pure deep threat, which is fine because Flynn doesn't air out 40-yard spirals too often. Boykin is simply productive. One could argue the difference in Nelson and Boykin in the rankings should be smaller. But I still trust Nelson. I trust Boykin, too. And Jones is more of a flex choice, in my mind. I'm expecting a good ol' fashioned shootout Thursday -- I made the Lions' Matthew Stafford my No. 1 quarterback for the week! -- so buckle up, get your Week 13 lineups set early and enjoy Thanksgiving Day!
In other Thursday action, watch the Oakland Raiders and Dallas Cowboys pile up the points as well. After all, who is going to stop them? Somehow the Cowboys boast a first-place team despite permitting the most fantasy points to quarterbacks and running backs through 12 weeks, which I can never recall seeing previously. And they're not good against wide receivers or tight ends, either. The Raiders' Matt McGloin continues to have that Nick Foles look about him. He also wasn't supposed to be special -- he wasn't even drafted in real life -- but he has replaced an electric running quarterback who wasn't healthy and has avoided turnovers. As of Tuesday morning, we don't know if wide receiver Denarius Moore will play through a shoulder injury, but if he does, he's a top-25 guy. I like Rod Streater, too. Oh, and Rashad Jennings! No, I'm not terribly concerned about Wally Pipp -- um, I mean Darren McFadden -- getting many touches, if he's even able to suit up. And by the way, the Cowboys will move the ball at will as well. Should be a blast!
Quarterback: The only somewhat odd name in my top 10 this week is the Chicago Bears' Josh McCown, but the Minnesota Vikings surely aren't playing solid defense. McCown edged out the San Diego Chargers' Philip Rivers for me based on matchup. And it might seem odd that the San Francisco 49ers' Colin Kaepernick, so productive Monday night, doesn't rank well here. Hey, he's not playing the Redskins defense this week. I also think Alex Smith and Ryan Fitzpatrick are better-than-normal plays this week.
Running back: The main theme here is the injuries. I ranked the Bears' Matt Forte, Broncos' Knowshon Moreno, Rams' Zac Stacy, New York Jets' Chris Ivory and Chargers' Ryan Mathews as if all are playing. Perhaps that's optimistic, but they're each varying levels of really productive. I will say that if any of them sits, I don't really like any of the backups. Michael Bush and his historic 1.6 yards-per-carry average make for a terrible option. Montee Ball and Stevan Ridley have more in common than most realize. Benny Cunningham ran for 100 yards in relief of Stacy last week, but let's just say many of us could run wild on that Bears defense. Cunningham is no star, and neither is Bilal Powell. But Danny Woodhead … yeah, if Mathews sits, Woodhead could force his way into the top 20. … As for Ridley, Scrooge Belichick could opt to bury him forever because of the fumbles, but I ranked Ridley 25th. The Patriots should handle the Texans, so why not give Ridley touches? There seems little risk even if he does cough up the football. I ranked Shane Vereen better but I doubt he gets 15 rushing attempts. … None of us ranked the Miami Dolphins' Lamar Miller as if Daniel Thomas was out. But don't drop Miller.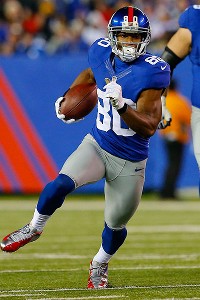 Jim O'Connor/USA TODAY Sports
He hasn't done much of late, but don't sit Victor Cruz this week.
Wide receiver: The temptation is there to sit the Giants' Victor Cruz because he did little against Dallas. But did you see what Anquan Boldin did against the Redskins, Cruz's next foe? Don't bury him, and deep leaguers should watch Rueben Randle. … I trust the Indianapolis Colts' T.Y. Hilton will be fine, actually. Those past two games were on the road, and with some dome teams, it really does matter. Now if Hilton and Andrew Luck lay another egg against the Tennessee Titans, all bets are off. … I continue to be perplexed at the trust everyone has in the Seattle Seahawks' Percy Harvin. I think there are far safer choices, and they have upside, too. … Detroit's Nate Burleson has become beloved, if Twitter and this week's SportsNation chat and Spreecast are any indication, which I find odd. He seems more like a "WR4" for me. By the way, if you didn't see my Tuesday Spreecast with colleague Tristan H. Cockcroft, in which Tristan mistakenly said his favorite food was Green Bay Casserole, I'd check it out!