Kansas City Chiefs quarterback Alex Smith ranks 11th overall in standard fantasy scoring this season, ninth among quarterbacks, and neither mark should be too surprising. After all, he finished the 2011 season just outside the top 10 in quarterback scoring and didn't exactly lose his job in San Francisco due to his performance. The biggest concern for the playoff-bound Chiefs certainly isn't quarterback play, but rather their defense, which was shredded by Peyton Manning and Philip Rivers for a combined 59 fantasy points over the past fortnight. Smith has performed well, topping 20 fantasy points each of the past three games and in four of five, and he's very much a reasonable starting option for playoff-bound fantasy owners in Week 14 as he faces the beleaguered Washington Redskins. That's why I ranked him among my top-10 quarterbacks.
I often find it surprising that many fantasy owners change their lineup decision-making process once December and the playoffs arrive. The tweets are rather hilarious all season, the "I really need a win!" ones -- which seems to imply that there are weeks when one does not need to win -- but now the decisions are "truly critical!" Obviously, a Week 14 matchup carries more weight than one in Week 4. Lose this week and your season could end. But the philosophy behind which fantasy options should be active isn't any different. Play your best options! Colleague Tristan H. Cockcroft and I discussed our respective thought processes for playoff time on Tuesday's Spreecast, and we're of a similar mind that it's a delicate cross between trusting the top players and examining matchups that perhaps favor the unreliable. Go with your gut. In Smith's case, my gut continues to tell me, in context with other quarterback options, that he should be trusted and the matchup is pretty sweet.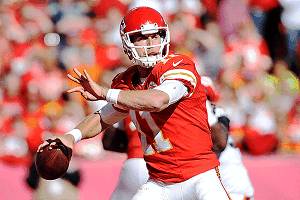 Denny Medley/USA TODAY Sports
Alex Smith has scored more fantasy points than RG III, Tom Brady and Colin Kaepernick, among others.
That's not to say Smith will automatically produce. After all, he produced single digits for fantasy owners on three occasions this season, and a couple of them came in what seemed to be attractive matchups (versus Oakland, at Buffalo). But how many players are truly safe, especially at quarterback? I noted in Tuesday's end-of-season rankings update that as of today, there are seven quarterbacks I would leave active at all times, regardless of matchup, weather, whatever. Smith isn't in that class, but he's in the next tier, and this week the matchup -- and his recent play -- dictates a promotion to the top 10. After all, this guy is top 10 among quarterbacks for the season, so it's not exactly a stretch! This week I don't particularly like the San Francisco 49ers' Colin Kaepernick (versus Seattle), slumping Indianapolis Colts leader Andrew Luck (at Cincinnati) or inconsistent Redskins hobbler Robert Griffin III (versus Kansas City). The oft-used fantasy line about winning with your best options favors Smith in this case, actually: He has outscored Kaepernick and Griffin, and the way Luck has played of late, that's really no contest. This week Smith is one of the better options, and looking at the rest of December, I don't see a single worrisome matchup (at Oakland, versus Indianapolis, at San Diego). Yes, Alex Smith really can be the quarterback on a fantasy championship team. It's true!
As for Smith's teammates, running back Jamaal Charles is always a strong option, but wide receiver Dwayne Bowe still seems a bit overrated to me. I did not consider him among my top-20 options at the position, for Smith actually has been spreading the target love around quite a bit. Bowe hasn't topped 11 standard fantasy points in a game all season, so he's more flex choice than top choice, if you will. Remember, Charles leads the Chiefs in receiving targets. It's OK to trust a quarterback without also leaning toward his wide receiver options.
Quarterback: In addition to Smith seizing a top-10 spot, Chicago Bears journeyman Josh McCown was in the spot right after him. McCown has thrown for more than 700 passing yards over the past two weeks, and it seems difficult to imagine the Dallas Cowboys -- fantasy's second-easiest D for opposing quarterbacks to pile up the points against -- keeping Brandon Marshall and Alshon Jeffery under control. Go with McCown -- but if Jay Cutler is active, go with him. I really doubt Cutler will play, though. … There's a huge disparity on the fantasy staff about the Atlanta Falcons' Matt Ryan this week. I like the matchup at Green Bay, but I ranked him 14th. We have a No. 8 and a No. 24. Wow! … I guess, compared to others, the capable (at least to me) Ryan Fitzpatrick is my sleeper at Denver, considering he's my No. 15 option.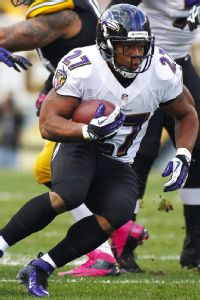 Justin K. Aller/Getty Images
Ray Rice has a favorable matchup this week, but it's tough to trust him, given his play this season.
Running back: Good to see nobody was concerned about the New York Giants' Andre Brown. Tens across the board! … My Le'Veon Bell rank is obviously predicated on his playing. If he's active, though, I have no major concerns. It's a concussion, not a balky knee or hamstring. If he's cleared, you're clear. … Sure, the last time Ray Rice faced a bad run defense, he did well. But I still don't trust him. He missed my top 20, and it wasn't close. I'd rather use Steven Jackson. … I do see Chris Ivory bouncing back this week. … I was the only analyst to rank Stevan Ridley, but obviously I'd like some assurance by Sunday that he's going to be active. He's not an RB2, and not a flex. But c'mon, the guy can play.
Wide receiver: It seems a lot of owners are concerned about Josh Gordon because the soap opera that is the Cleveland Browns continues to turn. Someone named Alex Tanney could be starting for them this week. Hey, where's Brian Sipe? He's only 64. My point here about trusting Gordon is that he's talented, and he's playing well, so why do we all assume Tanney (or Caleb Hanie) will be awful? What if Tanney can play? Brian Hoyer got similar treatment. Well, he played well! Don't get cute; stick with Gordon. … Stick with Alshon Jeffery, too. He's my No. 10 guy. Don't care who his quarterback will be. … I do have some concern about Antonio Brown, considering the Miami Dolphins have permitted just one touchdown to a wide receiver all season. But he's still my No. 15 guy. He should get his yards, and I think he will score, too. … I actually think Matt Flynn and the Packers will score points on Atlanta, which is why I ranked Jordy Nelson as a borderline WR2. Others ranked him higher. I'd rather have Harry Douglas. But not Roddy White. As awesome as White was on Sunday (14 fantasy points), forget about where you drafted him. Go with your best options. If you're playoff-bound, he's probably not one of them.