While I fully admit it would be tough for me to rely on the likes of Ryan Fitzpatrick or Kirk Cousins in a fantasy championship round -- regardless of attractive matchup -- I'm also not the type of owner who blindly subscribes to the "guy that got me there" approach. Fantasy owners often feel some misplaced sense of loyalty to players, even if the facts don't quite support it. Perhaps the best examples of full-season starters that don't seem like awesome options for me this week are the quarterbacks from the intriguing outdoors matchup between the New Orleans Saints and Carolina Panthers. I can at least understand why someone would sit Drew Brees and Cam Newton for a Fitzpatrick or Cousins, even though I probably wouldn't go that far. But after ranking these gentlemen a tad worse than my colleagues -- at seventh and eighth among quarterbacks -- I would consider sitting them for Andy Dalton or Jay Cutler and several others who might surprise you. Ultimately it comes down to where one draws the proverbial line.
The problem for Brees and Newton, the Nos. 2 and 3 quarterbacks in fantasy scoring for the season, is that the Panthers and Saints also happen to possess the Nos. 2 and 4 defenses, respectively, for preventing fantasy points to opposing quarterbacks. This is a potential game-changer, folks, as it's unlikely to be one of those 31-28 games. Brees hasn't scored 20 standard fantasy points in any of his seven road games this season, though he hasn't exactly been Geno Smith, either. Newton seems impervious to home/road matchups -- like pretty much everyone in the NFL, by the way -- but he has looked somewhat ordinary the past few weeks and is dealing with a toe issue. Plus, as I noted, he's facing a tough defense! These talented players made my top 10, but not in their customary high-ranking places, which is by design.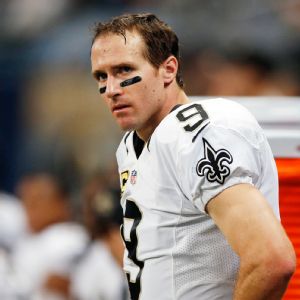 AP Photo/Charles Rex Arbogast
Drew Brees will face a Panthers defense that has held opposing quarterbacks to just 8.4 points per game in Carolina this season.
For example, I'm guessing there aren't too many Matthew Stafford owners feeling confident about him today. In fact, your season could be over because of him (trust me, plenty of Stafford owners still won in Week 15, just as not every Jamaal Charles owner won). The Detroit Lions' starter was arguably the No. 3 fantasy quarterback most of the season, but he hasn't played well of late, putting on an Eli Manning-like turnover show Sunday as the team worked on choking away a playoff berth. Of course, one of those games was in a driving snowstorm and the other was against the defending Super Bowl champs. But I ranked Stafford, facing Manning's terrible New York Giants defense at home this week, over Brees and Newton.
I also have Nick Foles (No. 2) and Philip Rivers (No. 3) significantly better for their appealing home matchups against brutal pass defenses. Think everything is Tony Romo's fault? Hey, he's still getting his fantasy points -- we don't judge here! -- and Washington is still giving them up. All these guys rank better than Brees and Newton for me. Brees delivered a seven-point fantasy game in Seattle a few weeks ago. Carolina's defense has permitted only one quarterback to top 17 fantasy points all season. That was Brees, in his safe dome, a few weeks ago. The most fantasy points the Panthers have allowed to a quarterback at home this season is 14. Then there's Newton, who was held to 160 passing yards at New Orleans a few weeks ago, and it wasn't due to venue. Frankly, I can make the case that Brees and Newton aren't even top-10 passers this week.
I understand why fantasy owners stick with their studs, and look, I tend to do this as well when it makes sense. But it's not simply because they're my studs. Season scoring is irrelevant in Week 16! The evidence supports playing Stafford against the Giants 10 times out of 10. I didn't rank Cutler ahead of Brees, but I understand why someone would. When Twitter questions come fast and furious about sitting Brees for Cutler, I can only answer what I would do, since every owner is obviously within rights to follow their gut -- with hopefully some statistical evidence -- and play the guy he wants. It's your team(s)! And while you might ruminate over an incorrect lineup decision for the next few weeks, months or even years, bitter at what might have been, I sure won't. Yeah, it's Foles, Rivers, Stafford, Wilson and even Romo over Brees and Newton for me this week, and I'm not looking back. You shouldn't either, no matter who you start at quarterback.
Quarterback: Cousins checks in at No. 14 for me, which I think is fair. He is still unproven. Sure, he's playing an ACC-level defense, but he's still not a lock. I would use him over the No. 4 quarterback for the season in Andrew Luck, though. … Ryan Fitzpatrick is playing well, and with seven more touchdown passes in the final two games, he'll get to 20 for the fourth consecutive year. But it's worth noting the Jaguars aren't exactly "Cowboys-bad" defensively. … If Aaron Rodgers is able to start, he'd be my No. 7 quarterback, just in front of Brees and Newton. But don't tell me he belongs top-three because of who he is, where you drafted him, etc. He hasn't played in an NFL game in months.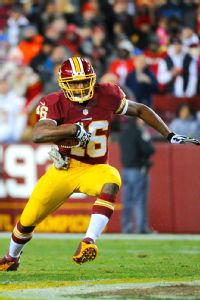 Brad Mills/USA TODAY Sports
Redskins RB Alfred Morris scored 14 fantasy points against this week's opponent, the Dallas Cowboys, back in Week 6.
Running back: The Cowboys aren't merely the worst defense against opposing quarterbacks, but they check in there against running backs, too. As such, Alfred Morris makes my top five, even over the great Adrian Peterson. And I feel good about it! … Peterson is no sure thing, folks. There's the risk of re-injury, and the Bengals are among the toughest to run on. I ranked him fifth, but actually don't feel good about that. … Ryan Mathews faces the same Oakland defense Jamaal Charles just scored 51 fantasy points against. He's among my top 10 running backs. … Amazing how Shane Vereen goes from top-10 among running backs to barely top-20 because Bill Belichick is smart enough to keep defenses guessing. If you liked Vereen last week, like him now. … Jordan Todman made quite the jump to top-20 RB, eh? I really doubt Maurice Jones-Drew plays again this season. And trusting Todman is not the same as trusting Kirk Cousins. There's no RB depth. … Ben Tate scares me, for health and performance against a Denver team that will score many points. Don't get too excited about Dennis Johnson if he plays.
Wide receiver: Yes, if I owned Josh Gordon and A.J. Green and could play only two receivers, I'd sit Calvin Johnson. He's my No. 3. That's how rankings work. But Megatron will light up the Giants. … I like Jordy Nelson regardless of who will be at quarterback for Green Bay. … I'm the only one with Anquan Boldin over Michael Crabtree. That wasn't planned, but I think it's premature to expect Crabtree to score every week. … Rueben Randle starts with Victor Cruz out, but does it matter if Eli Manning has no time to throw and his passes are errant? I'd rather use the underrated Doug Baldwin.