Welcome to January football, playoff-style. The regular season rewarded some of you with fantasy championships, and now we all get to try again with a fresh, new start here in the postseason.
As always for the playoffs, we do two sets of rankings in this space, depending on the type of league/pool available to you, whether online or off. The first is for the entirety of the postseason, as if one was drafting a team of players in standard roster format (1 QB, 2 RB, 2 WR, 1 flex, 1 TE, 1 D/ST, 1 K) that cannot be altered. The second is for pools that permit adjustment of roster after this weekend, thus removing players from the teams earning a bye week and focusing on initial scoring.
Obviously, if an owner can change his lineup next week, there would be little need to secure Peyton Manning or Russell Wilson today. However, those guys will be accruing statistics the following weekend and perhaps a few more thereafter, and that's one of the goals: to identify players who will get the opportunity to compete in multiple games. For purposes of this blog entry, since your style of pool could present myriad rules -- draft or salary cap? -- and ways to accrue players, we'll present this in a general sense, based on overall value.
Anyway, find some pals and get a playoff pool together, and remember the most important aspect of any fantasy league: Know the rules before drafting your players. Oh, and have fun.
Quarterbacks
For the entire playoffs
1. Peyton Manning, Denver Broncos
2. Russell Wilson, Seattle Seahawks
3. Nick Foles, Philadelphia Eagles
4. Aaron Rodgers, Green Bay Packers
5. Tom Brady, New England Patriots
6. Colin Kaepernick, San Francisco 49ers
7. Cam Newton, Carolina Panthers
8. Andy Dalton, Cincinnati Bengals
9. Drew Brees, New Orleans Saints
10. Andrew Luck, Indianapolis Colts
11. Philip Rivers, San Diego Chargers
12. Alex Smith, Kansas City Chiefs
Jan. 4-5 weekend only
1. Nick Foles, Eagles
2. Andy Dalton, Bengals
3. Aaron Rodgers, Packers
4. Colin Kaepernick, 49ers
5. Drew Brees, Saints
6. Andrew Luck, Colts
7. Philip Rivers, Chargers
8. Alex Smith, Chiefs
Analysis: This is quite a crew of top passers still playing. In fact, nine of the top 11 in standard season scoring made it this far, with the Detroit Lions' Matthew Stafford and Dallas Cowboys' Tony Romo being the only ones missing out. Rodgers is obviously the lowest season scorer of the 12 January starting quarterbacks since he missed half the season, while Brady and Smith are others not among the top 11 scorers. Does any of this matter? Well, perhaps. A season ago, the Baltimore Ravens' Joe Flacco was not ranked well in this space, perfectly defensible since the Ravens lost four of five entering the playoffs, were the AFC's No. 4 seed, and their quarterback was anything but a statistically oriented fantasy darling to begin with. And then Flacco and the Ravens won the Super Bowl. If anything, these rankings should remind people that seeding often means little for advancement.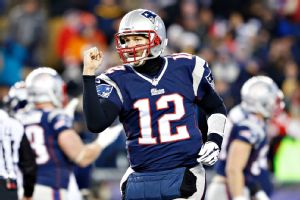 David Butler II/USA TODAY Sports
Fantasy owners shouldn't automatically expect Tom Brady to be his usual dominant playoff self, given the regular season he just had.
Manning and Wilson, however, seem like strong building blocks. If you get to choose a pair of quarterbacks, securing one of them is wise. Manning can produce monster numbers versus any team and Wilson will be performing at home, which generally helps. Then there's the Saints' Brees, whose ranking here looks awfully conspicuous since he was fantasy's No. 2 scorer this season. Remember, he failed to reach 20 standard fantasy points in all eight of his road games, and this weekend the Saints are in a cold, hostile place far from home. Yes, the home/road factor is a legitimate concern, even against an Eagles defense that made Kyle Orton look like Joe Montana for 58 minutes of Week 17.
Ultimately, Manning is a splendid first overall pick in a postseason draft, and Wilson, Foles and Rodgers feel like first-rounders as well. That's based on the premise that two games from them could mean 40-plus standard points. Remember, Foles was right there with Manning in scoring the second half of the season, and he was consistent. The AFC quarterbacks after Manning don't excite as much, particularly Brady, who did not have a great season and still doesn't have Rob Gronkowski, and his prior playoff success doesn't seem relevant any longer. However, I do like Cincy's Dalton to get two playoff games, at least. Decide which teams you think will win and go with their stars.
Running backs