It started in early September with a seven-touchdown performance from Denver Broncos quarterback Peyton Manning, continued through Week 9 when Philadelphia Eagles surprise Nick Foles matched the record-tying feat and ended with a productive final week that included New Orleans Saints star Drew Brees contributing five touchdown passes and winning many fantasy owners their leagues. Put simply, the 2013 season featured standout passer performances from start to finish -- as never seen to this level prior -- and it wasn't just Manning's heroics making their mark.
So with the 2013 regular season firmly in the rearview mirror and many fantasy owners already thinking about the 2014 campaign, it's time for our annual position recaps and early 2014 rankings. We begin at the quarterback position.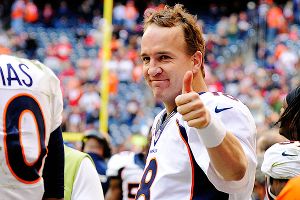 John Leyba/The Denver Post/Getty Images
Thumbs up to Peyton Manning for helping fantasy owners win championships in 2013.