It's always dangerous when fantasy owners watch August preseason action a bit too closely and get excited about the possibilities of big statistics carrying over to September. After all, a year ago the preseason statistical stars were … Kirk Cousins, William Powell, Nate Eachus and Travaris Cadet. Still, football returned this past weekend and hey, I enjoyed watching some of it. As long as nobody gets too carried away, there is information to be gleaned, especially for those excited about the potential the St. Louis Rams' offense brings.
I've never been a particularly big fan of former No. 1 pick Sam Bradford, but the young quarterback certainly appears to have enough weapons to become fantasy-relevant. On Thursday night, Bradford completed 5-of-8 passes for 102 yards and found the underrated Chris Givens for a short touchdown. I can't say I'm moving up Bradford in my rankings from his current No. 17 slot among quarterbacks yet, as the fellows directly ahead of him (Michael Vick, Joe Flacco) are more accomplished and possess their own degrees of statistical upside. But my interest is getting piqued a bit more each week by a few of his weapons.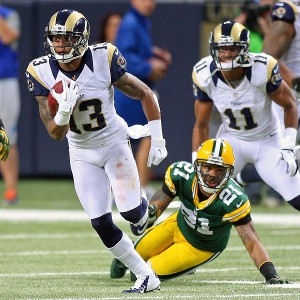 Scott Kane/US PRESSWIRE
Chris Givens is being taken, on average, at pick No. 117 in ESPN live drafts.