Here we go with the first Top 100 flex rankings of the 2013 fantasy football season!
Thank you for joining us in this space in past seasons, and get ready for four full months of fun as we combine the top running backs, wide receivers and tight ends into one tidy Thursday package that hopefully will aid in your decision-making and help vault you to meaningful fantasy games in late December.
For more advice, check out the Week 1 staff rankings in the usual spots, or perhaps your question was answered in one of our chats this week or by me and pretty much our entire staff from Wednesday.
Good luck to all this season, and remember, these are your teams, so make your own decisions. That said, it never hurts to get another opinion.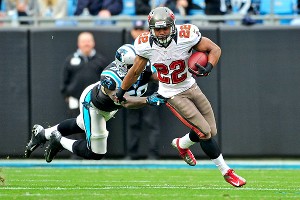 Grant Halverson/Getty Images
Doug Martin is one of many capable backs who could fit in that No. 2 ranking.
1. Adrian Peterson, RB, Vikings: Take the under on 2,000 yards, but it's tough to make a case he's not No. 1.
2. Doug Martin, RB, Buccaneers: Honestly, any of the next six or seven running backs could be in this spot, so let's not quibble. But they're all in the second tier.
3. C.J. Spiller, RB, Bills
4. Jamaal Charles, RB, Chiefs
5. Marshawn Lynch, RB, Seahawks: The first running back to downgrade in a PPR format. But not too much.
6. Ray Rice, RB, Ravens
7. LeSean McCoy, RB, Eagles: I'm interested in seeing how many receiving targets he gets in this new offense.
8. Trent Richardson, RB, Browns
9. Alfred Morris, RB, Redskins
10. David Wilson, RB, Giants: I don't know why people are concerned about him being his own goal-line back. Many starting running backs don't need help with this.
11. Stevan Ridley, RB, Patriots
12. Calvin Johnson, WR, Lions
13. Dez Bryant, WR, Cowboys
14. Chris Johnson, RB, Titans
15. Julio Jones, WR, Falcons: Four career games against the Saints, and only one really big performance. That changes this year.
16. Maurice Jones-Drew, RB, Jaguars: Welcome back, MJD! Big things are expected, at least from me.
17. Demaryius Thomas, WR, Broncos: I think I've heard enough about how the No. 41 guy on this list is going to make this guy far less valuable. I'm not listening.
18. A.J. Green, WR, Bengals
19. Steven Jackson, RB, Falcons
20. Arian Foster, RB, Texans: Probably his worst rank in this space ever. But the coach claims he won't get a full workload. It's refreshing knowing that coaches always tell the truth.
21. Reggie Bush, RB, Lions: The first seven of his 80 catches for the season come in Week 1.
22. Matt Forte, RB, Bears
23. Vincent Jackson, WR, Buccaneers
24. Andre Johnson, WR, Texans
25. Frank Gore, RB, 49ers
26. Larry Fitzgerald, WR, Cardinals: You'll notice the difference in how Carson Palmer gets him the ball versus John Skelton and Kevin Kolb right away.
27. Jimmy Graham, TE, Saints
28. Brandon Marshall, WR, Bears: His hip hurts so much he's not even on the injury report. This is a non-issue.
29. Darren Sproles, RB, Saints
30. Danny Amendola, WR, Patriots: Would like to say he's 100 percent, but you know it's not true. I just happen to like this matchup.
31. Lamar Miller, RB, Dolphins: Have a feeling he'll rank better in future weeks. On a related note, you won't see Daniel Thomas on this list anywhere.
32. Roddy White, WR, Falcons: When a 31-year-old has an ankle injury, everyone fears the end is near. What if Roddy were 25? Don't overthink this. He's playing the Saints.
33. Reggie Wayne, WR, Colts: A year ago this week, all people could discuss with Wayne was his age. A little Luck changed all that.
34. Randall Cobb, WR, Packers: Perhaps his toughest matchup of the season, and he's ranked 34th. Love his potential.
35. DeMarco Murray, RB, Cowboys: Claims he'll play in 16 games. I'm optimistic that he will; he could need the 2014 schedule to get to that many.
36. Darren McFadden, RB, Raiders: Didn't see any such claims from this guy.
37. Pierre Garcon, WR, Redskins
38. Victor Cruz, WR, Giants
39. Daryl Richardson, RB, Rams: Might seem strange, but if he doesn't play well this weekend, all bets are off. Isaiah Pead will be eligible for Week 2, and they've got a hotshot rookie. There's a small window but big upside here.
40. Dwayne Bowe, WR, Chiefs: Matt Cassel and Brady Quinn versus Alex Smith. OK, so he's not Joe Montana, but still.
41. Wes Welker, WR, Broncos: I say he catches 88 passes this season. Not exactly a bad year.
42. Marques Colston, WR, Saints
43. Ben Tate, RB, Texans: For those who feel like we're overrating this fellow, look at his 2011 season, not last year.
44. Eddie Lacy, RB, Packers
45. Tony Gonzalez, TE, Falcons: This guy is smart enough to know that if he truly was done, he'd leave the game. He's far from it. He's the second-best tight end this week and until Rob Gronkowski returns. By the way, would it really shock anyone if Gronk made a stunning appearance Sunday? Just be prepared.
46. Mike Wallace, WR, Dolphins: About time we see for ourselves how he and quarterback Ryan Tannehill aren't on the same page, because I'm guessing they're just fine.
47. Jason Witten, TE, Cowboys
48. Ahmad Bradshaw, RB, Colts
49. Antonio Brown, WR, Steelers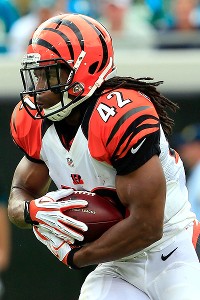 Sam Greenwood/Getty Images
The Bengals' starting RB job is still BenJarvus Green-Ellis' to lose.
50. BenJarvus Green-Ellis, RB, Bengals: Yep, he's ranked ahead of the rookie (for now). And on a related note, rookies tend to be overrated in fantasy. Law Firm will be fine if he plays well.
51. Cecil Shorts, WR, Jaguars
52. Torrey Smith, WR, Ravens
53. Hakeem Nicks, WR, Giants
54. Chris Ivory, RB, Jets: Jets claim he's not the Week 1 starter. It's certainly possible, though it doesn't really change his rank. Man, talk about a dysfunctional team. (Now watch them start by winning three of four.)
55. Shane Vereen, RB, Patriots
56. Steve Smith, WR, Panthers
57. DeSean Jackson, WR, Eagles
58. Montee Ball, RB, Broncos: Still my top Denver running back for Thursday, and someone to trade for even if early September is quiet for him.
59. Eric Decker, WR, Broncos
60. Isaac Redman, RB, Steelers
61. Giovani Bernard, RB, Bengals: I'm a big fan of this guy, but Law Firm gets more touches.
62. Kenbrell Thompkins, WR, Patriots: Yeah, I guess I'm all-in on this guy, though.
63. Ryan Mathews, RB, Chargers: So overrated in years past that he has become a bit underrated now. Will have to stay up very late on the East Coast to watch his game Monday, though.
64. Lance Moore, WR, Saints
65. Mark Ingram, RB, Saints
66. Mike Williams, WR, Buccaneers
67. Rashard Mendenhall, RB, Cardinals
68. DeAngelo Williams, RB, Panthers: Tough matchup for him, but a decent buy-low next week.
69. Tavon Austin, WR, Rams
70. James Jones, WR, Packers: I don't understand why people assume he can't succeed if the next fellow is healthy. And by the way, the next fellow really isn't 100 percent.
71. Jordy Nelson, WR, Packers: I think he's still banged up, but it doesn't matter this week: They play the 49ers.
72. Steve Johnson, WR, Bills
73. Anquan Boldin, WR, 49ers
74. Vick Ballard, RB, Colts: Should see work this week when the Colts are up three touchdowns in the first half.
75. T.Y. Hilton, WR, Colts
76. Knowshon Moreno, RB, Broncos: Own him, but don't look for reasons to start him.
77. Ronnie Hillman, RB, Broncos
78. Chris Givens, WR, Rams
79. Vincent Brown, WR, Chargers
80. Golden Tate, WR, Seahawks
81. Greg Jennings, WR, Vikings
82. Miles Austin, WR, Cowboys
83. Bryce Brown, RB, Eagles
84. Sidney Rice, WR, Seahawks
85. Emmanuel Sanders, WR, Steelers: I keep saying his numbers will look a lot like Antonio Brown's, but the rank doesn't match up. It should in future weeks.
86. Jared Cook, TE, Rams: Time for my tight end sleeper to match my expectations with his play.
87. Fred Jackson, RB, Bills
88. Michael Bush, RB, Bears
89. Kenny Britt, WR, Titans
90. Denarius Moore, WR, Raiders
91. Bernard Pierce, RB, Ravens
92. Jacquizz Rodgers, RB, Falcons
93. Danny Woodhead, RB, Chargers
94. Alshon Jeffery, WR, Bears
95. Shonn Greene, RB, Titans
96. Michael Floyd, WR, Cardinals
97. Bilal Powell, RB, Jets
98. Joique Bell, RB, Lions
99. Rueben Randle, WR, Giants
100. Ryan Broyles, WR, Lions
Others: Malcom Floyd, WR, Chargers; Mohamed Sanu, WR, Bengals; Brian Hartline, WR, Dolphins; Zach Sudfeld, TE, Patriots; Roy Helu, RB, Redskins; Felix Jones, RB, Steelers; LaRod Stephens-Howling, RB, Steelers; Pierre Thomas, RB, Saints.