Quarterbacks are off to an astounding start to the 2013 season, with six 400-yard passing performances in the first two weeks. How rare is this? Well, it ties the record for most in any two-week stretch in the Super Bowl era, and there doesn't appear to be any end in sight. In Week 1, Peyton Manning, Colin Kaepernick and Eli Manning turned the trick. On Sunday, Aaron Rodgers, Michael Vick and Philip Rivers topped the mark.
Meanwhile, using that number six again as a benchmark, but in a negative way, a total of six 20-point standard-league running back performances have been turned in so far, and they have come from Adrian Peterson, Reggie Bush, LeSean McCoy, Joique Bell, Knowshon Moreno and James Starks. Not exactly the same depth of big names, eh, and not exactly a great start for the running backs. After all, the 100-yard rushing outings in Week 1 were achieved by McCoy, quarterback Terrelle Pryor and the currently injured Shane Vereen. At least there were more 100-yard rushers Sunday, with -- again -- six of them, and from four preseason top-10 options.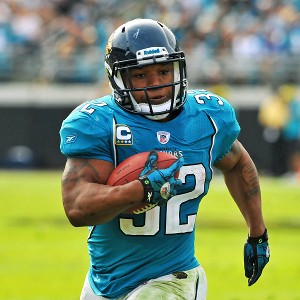 Al Messerschmidt/Getty Images
While many of the league's top quarterbacks have been gangbusters, many top running backs, such as Maurice Jones-Drew, haven't been.