One might think it's odd that I have ranked San Diego Chargers running back Ryan Mathews among my top-10 options at the position this week. Heck, even I think it's odd, because I'm well aware of the anguish this underachieving running back has caused fantasy owners in his short career. But wouldn't the world be a better place if we all learned to forgive and forget? Mathews is, after all, looking to log his third consecutive 100-yard rushing game, and the team he's facing, the defensively beleaguered Washington Redskins, have permitted the most fantasy points to opposing running backs this season, more than 23 points per game, with the lowest output being 18 points. Mathews seems like a lock in a running back world that is anything but!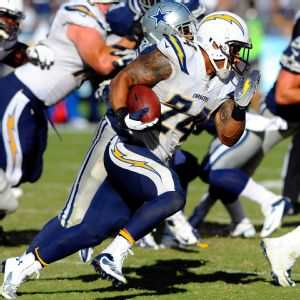 Christopher Hanewinckel/USA TODAY Sports
Ryan Mathews has scored double-digit fantasy points in three of his past four games.
We're roughly halfway through the season, and recent trends mean more than 2012 statistics at this point. I don't care what the Dallas Cowboys' DeMarco Murray is capable of, because he's not reliable, even those rare moments he's healthy. Tennessee Titans running back Chris Johnson could explode on a bad Rams defense -- which, by the way, just controlled Marshawn Lynch -- but he's hardly reliable. Let's face it, Mathews isn't reliable, either. But he has run well of late, he's coming off a bye week and these Chargers are a different team than in previous seasons. Nobody looks twice when quarterback Philip Rivers ends up among our top 10 at his position, and this week he's my No. 5 guy, as the Redskins aren't exactly strong against the pass, either (fifth-most fantasy points allowed to opposing quarterbacks). As I was ranking him there, I thought about it for a second, realizing how erratic and turnover-prone the guy had been in prior seasons, but why does that matter anymore? These Chargers are fantasy-friendly!
Perhaps there were no Chargers anyone really wanted to select in preseason drafts -- my hand is raised, except for maybe Vincent Brown, who has done little -- but now Rivers is the No. 8 fantasy scorer for the season, Mathews has four double-digit fantasy efforts (the same as Adrian Peterson, incidentally), and rookie wide receiver Keenan Allen has emerged as a solid WR2 option and my No. 15 choice. The argument can be made that Antonio Gates is a top-2 or 3 tight end not only this week, but the rest of the season, knowing the Jimmy Graham and Rob Gronkowski situations. I can't say I'll trust Mathews and Allen and perhaps Rivers all weeks, but against the Redskins, a team that allowed about the quickest five touchdowns Sunday to turn an exciting lead in Denver into a blowout loss, it all works.
Quarterback: Why did I nearly rank Cam Newton as the top quarterback this week? Well, last year he skewered the Atlanta Falcons for 36 and 30 fantasy points. That's why! … I feel like we all ranked Andy Dalton too well, knowing that this three-game stretch is unsustainable. … Doesn't matter what you think of the Oakland Raiders' defense; you just can't rely on Nick Foles or the Philly offense. … I'm not overly concerned about the Chicago Bears' offense with Josh McCown at quarterback. Given his weapons, he's top-20 for me this week.
Running back: What seems more odd, Ryan Mathews in the top 10, or Fred Jackson? Hey, they're putting up numbers. Is Chris Johnson? … I ranked C.J. Spiller better than he deserves, and I know it. He might not even play. But I can't give up on his upside. … I trust Arian Foster as a top-10 running back if he plays. And I think he will be playing. … Lamar Miller is a pain to own, but it's hard to argue against top-20 potential. The guy has top-10 potential, really. For this week, he's my No. 20, and probably deserved better against a Bengals defense that opposing running backs have owned of late. … We're all probably being a bit harsh in ranking the Falcons' Steven Jackson so poorly. It's not as though the players ranked ahead of him, such as Darren Sproles, are doing much. … Clearly I like Pierre Thomas more than my colleagues, even against a Jets team that is tough to run on. Well, I'm probably more focused on the lack of other top-20 options. And Thomas does catch passes.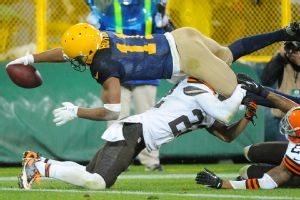 Benny Sieu/USA TODAY Sports
Packers receiver Jarrett Boykin followed up his big game in Week 7 (versus Cleveland) with a respectable 89-receiving-yard day (in Minnesota).
Wide receiver: Don't worry about Dez Bryant and the most overplayed non-story of the season. We aren't. The Cowboys aren't. Amazing talent will have a big game. … I do worry about DeSean Jackson getting few targets or not caring when he gets them. Not a top-10 WR for me. … I don't see the Packers' Jarrett Boykin simply going away, even if James Jones plays, which is no lock. … Marvin Jones will likely be mighty overrated by fantasy owners this week. Add him, play him over the likes of Mike Wallace if you want, but be realistic, too. … Also be realistic about the Seahawks' Percy Harvin. Those expecting immediate, top-10 numbers will be disappointed. Seattle's offense didn't struggle against the Rams because Harvin wasn't there. … I'm skeptical about relying on any Patriots wide receiver. … One can do worse than Eddie Royal, based on the matchup.
Tight end: I think it's a bit dangerous to assume the Saints' Jimmy Graham will simply score two touchdowns every week. Not saying I sit him, but he's not my No. 1, knowing what the team is thinking. There's downside for a zero, too. … Three teams are permitting 10 or more fantasy points per game to tight ends (Cardinals, Dolphins, Packers), and since I'm not too concerned about McCown, I'm similarly optimistic on Martellus Bennett as a top-10 option. … Meanwhile, the Steelers are second-toughest to accrue fantasy points again. That doesn't mean Gronkowski will struggle, but if you have Jordan Reed or Antonio Gates, you don't have to start Gronk.