Fantasy football owners appreciate consistent statistical performers, and the Philadelphia Eagles are anything but. Sure, on Sunday Eagles quarterback Nick Foles tied an NFL record with an amazing seven touchdown passes in the 49-20 demolition of the Oakland Raiders, but in his last game, Foles was downright awful. In fact, the Eagles had scored nary an offensive touchdown in their previous two games, each against less-than-stellar defenses at home. Then they scored seven Sunday. And next week in Green Bay, who knows?
Well, that's an issue for fantasy owners who want to rely on an Eagles quarterback and to a degree the weapons, because the all or nothing mentality is risky. Certainly coach Chip Kelly's offense has shown enticing upside at times this season, but it also has fizzled out at times, notably in games at home, where the team has three touchdown passes in four contests. Playing at home versus the road is not a skill. Fantasy owners looking to replace bye-week quarterbacks such as Peyton Manning and Matthew Stafford might be kicking themselves that they missed out on Foles' 45 fantasy points -- he was active in a mere 3.8 percent of ESPN standard leagues -- but don't feel bad. There was little indication a performance like this was pending.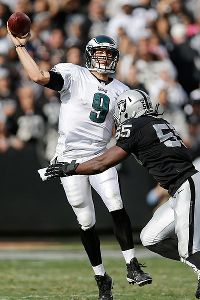 AP Photo/Marcio Jose Sanchez
For the season, Nick Foles has 13 TD passes and zero interceptions.