Let's be fair to Seattle Seahawks wide receiver Percy Harvin: He certainly looked healthy while making a pretty one-handed reception in the second quarter of Sunday's 41-20 win over the hapless Minnesota Vikings, and he impacted the game on a cool 58-yard kickoff return a few minutes later. Then again, the many fantasy owners who waited 10 weeks to activate the superstar were rewarded with one lonely fantasy point, barely impacting their matchups. Harvin's debut was statistically quiet, even against the brutal team that gave up on him earlier this year, but optimistic fantasy owners can probably be fooled. They're likely to buy in because Harvin's two awesome plays were "SportsCenter"-worthy, and the explosive Seahawks are 10-1 and cruising their way to January.
Of course, that's precisely why a player with one fantasy point this entire season can still be sold high. Perception is often more important than reality. The Seahawks have five games remaining this season after the Week 12 bye, and there isn't a terrible opposing defense among them. There's certainly nobody like the Vikings or last week's dreadful foe, the embarrassing Atlanta Falcons, looming. This is the time of year when potential fantasy playoff entrants should be looking at the December schedule -- for it surely does matter -- and check out recent trends, not season statistics. For example, the New York Giants defense that hosts the Seahawks across the country in Week 15 has played much better over the past month, with regular double-digit fantasy outings. With the ESPN standard-league trade deadline approaching this Wednesday at noon ET -- trades must be offered and accepted by then -- time's a wastin' on selling high. It's precisely time to do this with Seahawks like Harvin and potentially with quarterback Russell Wilson, running back Marshawn Lynch and frankly, the team's defense.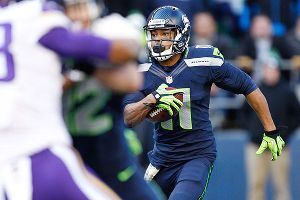 Joe Nicholson/USA TODAY Sports
Percy Harvin is starting in just 7.8 percent of ESPN standard leagues this week.