Well, if you're still checking out the top 100 flex rankings entering Week 16, then I both thank and applaud you. Either you're a glutton for punishment or your fantasy team or teams still have something to play for! No matter how good a fantasy team is, it's never a given that it will make it to Week 16. But here we are, and we at ESPN Fantasy are honored to help in any way we can, in this case bringing you the penultimate flex rankings, combining the best of the running backs, wide receivers and tight ends into one tidy package.
Just be sure to keep up with the news during the week; in fact, the status of a few players were altered just while I was writing this! And best of luck in Week 16 and beyond!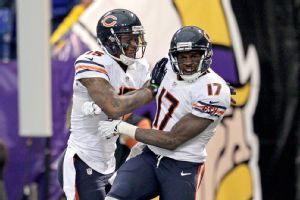 Brace Hemmelgarn/USA TODAY Sports
You can count on your Bears receivers to produce this week against that Philly D.