Though owning New England Patriots star Rob Gronkowski during the 2013 season tested many a frustrated fantasy owner, this was generally a productive position that was tough to complain about. Tight end scoring has never been higher, with 3,768 standard fantasy points from the position this past season, and for those in standard leagues, it wasn't terribly difficult to find a reasonable option. Let's discuss some of those reasonable options here. We've recapped/previewed quarterback, running back and wide receiver already, so with the Super Bowl on the horizon, let's finish up our position write-ups with tight end.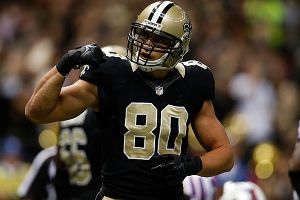 Chris Graythen/Getty Images
Jimmy Graham scored a full 55 (standard) fantasy points more than the next highest-scoring tight end.Tight end Most Valuable Player: New Orleans Saints star Jimmy Graham seemed on his way to breaking the all-time mark at the position for touchdowns and fantasy points in a season, but ultimately fell just short. Graham scored 211 standard points, 22 behind Gronkowski's 2011 record, and scored 16 touchdowns, one off what Gronk achieved that season. Still, no wide receiver scored as many as 16 touchdowns this past season. Graham was spectacular and consistent, scoring in double digits for standard formats in 12 of 16 weeks. While the Denver Broncos' Julius Thomas and Cleveland Browns' Jordan Cameron were certainly superior values based on draft position, Graham was in a class by himself, outscoring No. 2 tight end Vernon Davis of the San Francisco 49ers by 55 points; for perspective, Graham was the No. 9 flex option for the season, as only five running backs and three wide receivers outscored him. Even if you had to use a second-round pick to get him, Graham is the position MVP.