Hiring Andy Reid to coach the Kansas City Chiefs undoubtedly will help the franchise and the individuals whom fantasy owners will be relying on. Perhaps Reid's most important move initially was to acquire a smart, veteran quarterback to run his special offense.
Reid, the West Coast offense and former San Francisco 49ers quarterback Alex Smith are all seemingly positive additions. Reid brings innovative ideas and a track record of success, but without a capable quarterback, it wouldn't mean much. Smith is an established quarterback, an accurate, mobile passer who has the ability to make others around him look good, especially Reid.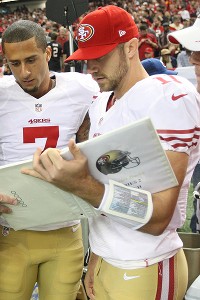 Michael Zagaris/Getty Images
Alex Smith, right, really didn't "lose" his starting job with the Niners; it was taken away by talented backup Colin Kaepernick.
Don't get me wrong, I'm hardly hyping Smith as a top-10 fantasy quarterback, though it seems worth pointing out that he nearly achieved that distinction for the 49ers in the 2011 season. Smith didn't come close to 4,000 passing yards or 30 touchdown passes, but what he did thrive at was getting the football where it needed to go and avoiding turnovers. Smith completed 61.3 percent of his passes and tossed a mere five interceptions in 16 games that season. And though there's no comparison between him and someone like Drew Brees, avoiding negative fantasy points does serve a nice purpose. Perhaps Smith will reach 3,200 passing yards and 20 touchdowns this season, making him a serviceable fantasy reserve, but it's his effect on his teammates that fantasy owners should be most interested in.