The many fantasy owners and Texas Rangers fans who have been waiting all season for the promotion of super-prospect Jurickson Profar finally got their wish Sunday night: He got the call when Ian Kinsler was placed on the DL. But it's premature to assume he'll be up the rest of the season, perhaps even in a month, and that seriously dilutes his 2013 fantasy value. Just because Mike Trout and Bryce Harper made history in 2012 doesn't mean Profar will this season. Hey, I think Profar should be a regular player in the big leagues now, and I'd rank him as a borderline top-10 fantasy second baseman if I thought 400 at-bats were pending, because he has the power and speed to make a difference. It's just unlikely that he'll get that chance, so expectations should be guarded.
After all, Kinsler didn't even get to hit this weekend, yet he remains one of fantasy's top five second basemen, and he just missed an overall top-20 spot in our mid-May ranks. He's likely not moving to first base either, considering that Mitch Moreland has been just about the hottest hitter in all of baseball this month, including seven home runs already.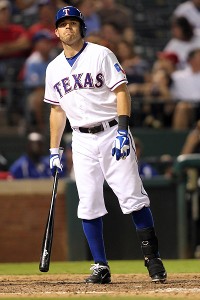 Tim Heitman/US Presswire
Ian Kinsler, who was placed on the DL Sunday night, currently ranks 44th among all hitters on the Player Rater.