Relying on batting average drains such as Chicago White Sox first baseman Adam Dunn and Atlanta Braves second baseman Dan Uggla can be painful for any fantasy owner, but when they're hitting for power -- like they were Monday night -- they can still help a team. On Tuesday, they returned to their hitless ways, combining to go an evenly distributed 0-for-8 with four strikeouts. I admit to trying to ignore players like these on draft day, but by mid-May most fantasy owners have a better idea what type of offensive teams they possess, making it clearer if there's a need to add flawed power options, and if owning a .200 hitter is feasible.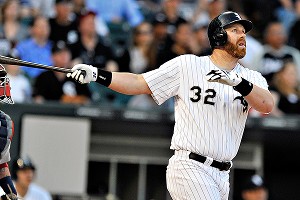 AP Photo/Paul Beaty
Adam Dunn currently ranks 228th on the ESPN Player Rater.
Dunn smacked his 11th home run Monday, doing so with a first-inning, three-run blast off lefty Jon Lester. He's hitting a lame .168 and actually has more home runs than singles so far. That is tough to do, but then again, he's not paid to hit singles. What's interesting about Dunn is that entering Tuesday, five of his home runs had come in the past week, along with 13 RBIs, reassuring owners that last year's 41-homer season appears very much real. The year before, Dunn hit only 11 home runs. Will Dunn hit 30 more home runs this season? It's certainly possible, perhaps more likely than him hitting .200 the rest of the way. Regardless, he's approaching inclusion on ESPN's most-added list because owners are so desperate for power that they'll take it at any price.