A week ago, Josh Rutledge of the Colorado Rockies was among the top 10 second basemen on ESPN's Player Rater. Now he's on his way to Triple-A Colorado Springs. Talk about a swift fall from grace!
Rutledge, a 23rd-rounder, on average, in ESPN live drafts still ranks above such players as Adrian Gonzalez, Billy Butler, Yoenis Cespedes, Starlin Castro and Michael Bourn on the Player Rater, and remains on pace for 18 home runs, 18 stolen bases and 92 runs scored. However, his lack of plate discipline and defensive struggles earned him the demotion. It's a shame, too, because quite a few fantasy owners are going to need a replacement; Rutledge began Wednesday owned in 95 percent of ESPN standard leagues (that number was already down to 85 percent as of Thursday morning). Rutledge's demotion likely will be a short-term one, but I wasn't high on Rutledge to begin with because he just refuses to embrace the art of drawing even a modest number of free passes. Between Double-A Tulsa and the Rockies last season, he drew 23 walks in 670 plate appearances.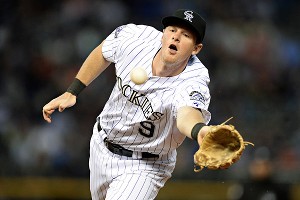 Ron Chenoy/USA TODAY Sports
The defensively superior DJ LeMahieu is expected to start at second base for the Rockies for now.