Unlike home runs and stolen bases and most offensive statistics, for that matter, pitcher wins are not a good gauge of a player's true ability. They just aren't. We could compare myriad sets of pitchers in this space with similar statistics in ERA, WHIP, strikeout rate and more, and then you'd see that some of these guys have five or six wins, while others inexplicably have two or three. There's Matt Moore and Patrick Corbin off to monster starts and Cole Hamels sputtering away sans run support. I can't make the case Hamels has been better, but just because someone has or hasn't won games through 10 starts tells us nothing about the remaining 22 or so starts.
So it is that I'll take a shot at predicting the final leaderboard in pitchers' wins. I know it's silly, but it's fun, and it continues the theme of projection week, with home runs and stolen bases already off the board. This will not be a ranking of Player Rater value, but rather just wins, and hopefully this will give you an idea of which pitchers I like more than others.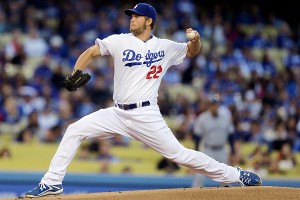 AP Photo/Reed Saxon
Clayton Kershaw ranks second among all pitchers on the Player Rater despite having just a 5-3 record.