We're nearly two months into the season, and now is a perfect time to look closer at your closers to see if they're doing the job you expect from them. Saves and stolen bases are the easiest categories to move up in for fantasy owners after two months of the season, because those statistics are so finite. Craig Kimbrel saves games. Aroldis Chapman saves games. And you know what, so do the more unheralded Edward Mujica, Glen Perkins and yes, even Kevin Gregg. So let's conclude "season predictions week" with the pitchers I think will end up among the top 10 in saves. Because we saved the best for last.
1. Mariano Rivera, New York Yankees (45 saves): It somehow seems fitting that the greatest relief pitcher of all-time will end his career with the league's top save total, and the chance to finish more games in October (which he will). Rivera has actually led the majors in saves in a season only three times, but with a team that no longer wins its games 8-2, he's on pace for a career high. He'll fall short there, but nobody will save more games this year -- or ever.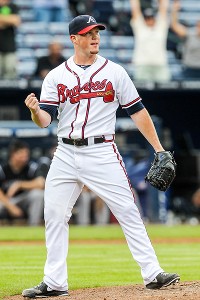 Daniel Shirey/US Presswire
Braves fireballer Craig Kimbrel has been scored on in just three of his 21 outings this season.
2. Craig Kimbrel, Atlanta Braves (44): Other closers might have a lower ERA, but he's still the best. Only concern is that both his top setup men are done with elbow problems, which hardly means he's next, but can the likes of Cory Gearrin and Anthony Varvaro do the job in front of him? Apparently I believe so.
3. (tie) Joe Nathan, Texas Rangers (43): Perhaps Gearrin can thrive much like Rangers setup man Tanner Scheppers has. Regardless, Nathan is thriving yet again, no worries here.
3. (tie) Addison Reed, Chicago White Sox (43): One would think he can't continue to save roughly three of every four ChiSox wins, but then again, the team should improve as the season goes on.
5. Aroldis Chapman, Cincinnati Reds (40): Would still have more value pitching 175 innings, but that ship sailed months ago.
6. Jason Grilli, Pittsburgh Pirates (39): His start has been so impressive he might save this many by the All-Star break. OK, that's impossible, but just be careful here, as Joel Hanrahan didn't get many save chances when the Pirates went in the tank the final months last year.
7. Sergio Romo, San Francisco Giants (37): An underrated pitcher, and we know this team gives its closers many save chances.
8. (tie) Jonathan Papelbon, Philadelphia Phillies (34): The most expensive closer is also perhaps the most underused one. It makes little sense, but we can't control how he's used. He'll still have a very good year.
8. (tie) Jim Johnson, Baltimore Orioles (34): Yes, his 2012 season was tremendous and unsustainable, but he's not a bad pitcher. He's just struggling a bit but will figure things out.
10. Ernesto Frieri, Los Angeles Angels (33): It's not looking like Ryan Madson is close to joining the Angels, so Frieri likely will keep this job indefinitely. He walks batters, but he's also tough to hit.
Best of the rest: The top St. Louis Cardinals reliever is actually right-hander Trevor Rosenthal, a future starter. Edward Mujica is thriving, but I predict Rosenthal will have the job by September. … Huston Street is capable enough, but injuries have held him to less than 30 saves in five of the past six seasons. Trade him now before his next DL stint! … Rafael Soriano would seem to be a lock for 35 saves on a Washington Nationals team that figures to improve, but with two former closers setting him up, there's no way the organization would push Soriano with any kind of tweak in his arm, leg or any other body part. … Tom Wilhelmsen is certainly good enough to save 35 games. Are the Mariners good enough to give him that many chances, though?
Have a great weekend!