Chicago White Sox outfielder Alex Rios did something noteworthy Tuesday night, tallying six hits in as many at-bats, while adding a pair of stolen bases and an RBI. The oft-overlooked Rios is rightly owned in all leagues, and good for him; he's proving that the every-other-season theory is just ridiculous. Rios is again thriving in 2013, overcoming an annoying but hardly predictive trend of high performance only in even-numbered years. Rios is the No. 33 player on the ESPN Player Rater (23rd among hitters) and while his power is a bit down, he's on pace for a career high in stolen bases and his batting average is fine. In fact, Rios generally doesn't warrant much discussion because he's just a solid player, and of course this blog entry really isn't about him at all. Instead, it's about the underachieving starting pitcher he touched up for four of those hits.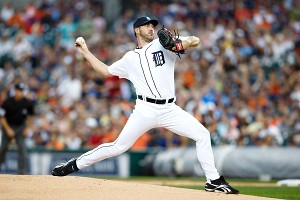 Rick Osentoski/USA TODAY Sports
Justin Verlander has been decent this year but hasn't been at an elite level.