After New York Yankees lefty CC Sabathia's struggles against the Boston Red Sox on Sunday night, it might seem obvious for me to suggest you (finally) run away and give up on any hopes that he'll be anything resembling the top-20 starting pitcher we expected him to be.
But guess what: I'm still not selling.
Sabathia entered Sunday's outing at Fenway Park ranked 39th among starting pitcher-eligibles on the ESPN Player Rater, one spot ahead of Detroit Tigers right-hander Justin Verlander, and not exactly sputtering to the point that he warrants free-agent consideration. He finished Sunday on pace for 235 innings and 202 strikeouts, and he's still winning plenty of games, which is why he was my No. 25 starting pitcher in the mid-July rankings. A bad Sunday night against the league's top offense shouldn't change that.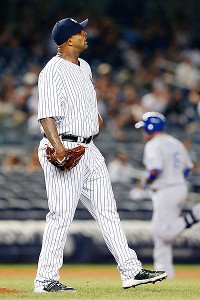 Jim McIsaac/Getty Images
CC Sabathia has allowed 23 homers in just 142 innings this season.