It's certainly possible that Toronto Blue Jays third baseman Brett Lawrie eventually lives up to the grand praise many of us had for him not only a season ago, but in 2013 as well. No matter what happens in the rest of 2013, fantasy owners should know better than to simply give up on a player ever reaching his potential. Lawrie has shown he is talented, both at the plate and defensively at the hot corner, and he appeared to be a future All-Star when he arrived on the big league scene in 2011. Then again, anyone else remember the prevailing opinion -- and you can't deny this! -- of Chicago White Sox infielder Gordon Beckham back in 2009? It was eerily similar, and just look what has occurred there.
Beckham was a rookie third baseman back in 2009 and a really good one, as he hit .270 with a surprising 14 home runs over 103 games. He was fifth in the American League Rookie of the Year voting after that season and highly coveted for fantasy purposes heading into 2010, not just for what appeared to be a pending 25-homer season with relevant speed and batting average, but because he was moving to second base full time. Beckham remains a second baseman today, but his offensive output hasn't been worth it. From 2010-12, he averaged 12 home runs per season, with five stolen bases and a grisly .238 batting average and .303 OBP. He still hasn't reached his rookie totals (which he amassed in 103 games) in RBIs, doubles, walks or steals even though he has averaged 144 games since that season, and I'm skeptical that his current hot play will continue. Regardless, the point here is that with Beckham, it ceased to matter which position he was playing, and I wonder if we're getting to that point with Lawrie.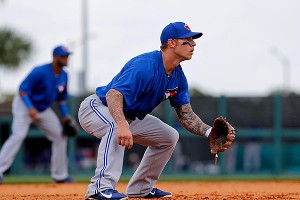 Derick E. Hingle/USA TODAY Sports
Brett Lawrie has been attempting to make the transition to second base.