There's little question the Houston Astros are building something special and eventually their middle infield of Carlos Correa and Delino DeShields Jr. could be the envy of most organizations, but the current options look pretty good, too. Second baseman Jose Altuve continues to thrive, is signed long-term and seems on his way to a top-5 finish at his position. The Astros have time to worry about it, but Altuve's performance could push DeShields to center field, but regardless, he should help fantasy owners for years to come. On Tuesday, the universally owned Altuve stole his 23rd base and raised his batting average to .280.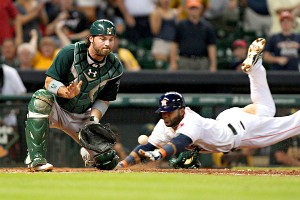 Troy Taormina/USA TODAY Sports
Jonathan Villar has already made an impact on the Astros since being called up, including scoring the winning run on Tuesday.
The guy now manning shortstop, Jonathan Villar, is owned in a mere 1 percent of ESPN standard mixed leagues. While a strong prospect, Baseball America ranked Correa and Nolan Fontana better at shortstop within the Astros organization in their 2013 annual, noting that Villar's stock slipped from fourth in 2012 to 12th for this season. But he's in the big leagues now and after seeing his two starts this week, it's like watching a young Jimmy Rollins. Installed immediately as the leadoff hitter, Villar stole his first base in Monday's game and on Tuesday added three hits, two of them doubles, and scored the winning run in the exciting comeback victory over the Oakland Athletics.
When the switch-hitting Rollins came up for the Philadelphia Phillies late in the 2000 season, it was clear what tools he brought. He stole three bases in 14 games from mid-September on, supplying electricity and confidence to a dormant lineup, and by 2001 became a fantasy fixture, providing lofty stolen base and runs totals and surprising middle-infield pop. Similarly, the switch-hitting Villar brings an enticing combination of modest power and aggressive base-stealing prowess to the top of the lineup, and he certainly appears the starter until Correa is ready. After that, who knows, but fantasy owners should act now. I know it's only two days, but looking at the lack of shortstop depth in fantasy baseball and Villar's obvious skills, it wouldn't be shocking if this was a top-10 shortstop for the rest of 2013.
Villar, 22, hit .277 with eight home runs and 31 stolen bases for Triple-A Oklahoma City, and while his overall upside pales in comparison to Correa, a No. 1 overall top draft pick, and DeShields, who certainly has bloodlines, don't sell Villar short, as it were. The comparisons to a young Rollins seem eerily similar to me, whether it's the extra-base hit potential (check the triples), the rate of walks to strikeouts (he'll swing and miss a lot) and even the apparent recklessness, which I'd call a good thing from a fantasy sense. Villar was drafted by the Phillies and sent to Houston in the Roy Oswalt trade. If not, perhaps the Phillies wouldn't have signed Rollins to a new contract. But Rollins' current unexciting fantasy numbers are exactly why Villar matters right away.
Consider that Rollins is the No. 13 shortstop on the ESPN Player Rater for the season, with an underwhelming five home runs, nine stolen bases and a .258 batting average in close to four months. Villar is going to run and while the Astros aren't the 1927 Yankees, he's going to score runs. He should hit a few home runs. He'll swing and miss and isn't likely to threaten a .300 batting average, but he doesn't need to for us to look his way. I'd still take Rollins over Villar the rest of this season, as well as 10-plus other shortstops (including Starlin Castro and Elvis Andrus), but if you need steals and aren't getting them or much else from Erick Aybar, Jed Lowrie, Alcides Escobar, Jose Iglesias, Zack Cozart and Didi Gregorius, go add Villar. If you're waiting on Derek Jeter, ask yourself if you really think he'll be stealing bases (he won't). The Chicago Cubs have been using Junior Lake in center field, but he's shortstop eligible, and I'd take Villar. It's early but this kid looks like a major fantasy asset.
Astros angles: Right-hander Jarred Cosart, another former Phillies prospect -- acquired in the Hunter Pence trade -- has looked terrific since joining the big league club. Cosart permitted two runs (one earned) to the Athletics on Tuesday, and the fact he was permitted to throw 115 pitches is telling. Cosart has big strikeout stuff but is dangerous for this season. Remember, Jordan Lyles surged upon promotion this year, as well. I'd take Cosart moving forward. There is the possibility he's moved to the bullpen eventually, as well. Cosart is already the No. 2 owned Astros pitcher (7.7 percent of standard leagues), behind only closer Jose Veras. … Outfielder Brandon Barnes hit for the cycle to start the second half of the season, but left Tuesday's game with a calf strain. I looked at Barnes for a deep league but I don't see him hitting for batting average. He's well past prospect status. … Third baseman Matt Dominguez is doing precisely what I thought he would, flash the leather defensively and hit for power. His game-tying blast off previously perfect A's closer Grant Balfour on Tuesday was his 12th home run. The .265 OBP is a major issue, though. … I keep watching infielder Brett Wallace because he has hit five home runs since his late-June call-up. There's just no semblance of plate discipline, though. Wallace has five walks and 35 strikeouts in 103 plate appearances. … I don't think closer Jose Veras gets traded, but it seems to me right-hander Jose Cisnero is next in line. Of course, he's been terrible lately. Older lefty Travis Blackley seems to have earned some late-inning trust, as well.