The Milwaukee Brewers certainly aren't playoff-bound, but it hasn't stopped several of their more unheralded players from becoming interesting in fantasy baseball. Right-hander Marco Estrada dominated the Cincinnati Reds on Sunday, allowing one hit over seven shutout innings and striking out nine, while outfielder Khris Davis and second baseman Scooter Gennett made important contributions as the Brewers took the weekend series.
Estrada has had quite the August so far, posting a 1.87 ERA over four starts and striking out 21 in 24 innings. He was a popular deep-league sleeper this season after finishing 2012 with a 3.64 ERA, 1.14 WHIP and 143 strikeouts in 138 1/3 innings, but he was terrible in April and likely dumped in most leagues. His ERA at the All-Star break was 5.32, then he missed July with back and hamstring injuries. He's clearly fine now, though. Estrada has been someone worth buying for weeks, with an xFIP a full run below his ERA and a track record for accruing strikeouts. He's a fly ball pitcher who has been a bit unlucky in terms of home runs allowed, and after beating the Reds, he shouldn't be overwhelmed by the Los Angeles Angels or Chicago Cubs his next few outings. Consider him a spot starter in 10- and 12-team leagues and a worthy add in 14-team formats.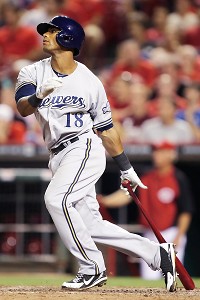 AP Photo/Al Behrman
Khris Davis has a 1.253 OPS in the month of August.