For weeks and perhaps months, the biggest concern in the fantasy baseball world concerning awesome New York Mets right-hander Matt Harvey has been about when the team would officially shut down his season, citing an innings limit. Hey, we went through this with Washington Nationals right-hander Stephen Strasburg a season ago, so we should be used to it. Well, we have an answer now, and it's discouraging and not up for much debate on the Mets' part: Harvey's season is over immediately and Tommy John surgery could be pending due to a partially torn UCL in his pitching elbow. Say goodbye to the No. 4 pitcher on the season Player Rater and 14th overall.
Harvey, 24, hadn't shown signs of arm troubles until after his last outing, when the Detroit Tigers somewhat had their way with him for 13 hits over 6 2/3 innings. Harvey managed to avoid a pounding, permitting only two runs, but he reported unusual forearm pain afterward. Now we know why. His final numbers for the season are excellent, with a 2.27 ERA, 0.93 WHIP and 191 strikeouts in 178 1/3 innings. By the way, for all the people who have been comparing Harvey's upside with that of Strasburg -- let's agree that both are tremendous -- note that it has been nearly three years to the day when Strasburg damaged his elbow as a rookie and surgery was announced. And Strasburg has pitched extremely well since, with a career ERA of 2.96 and 1.08 WHIP.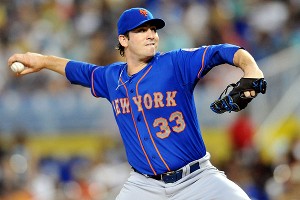 Steve Mitchell/Getty Images
The 13 hits Matt Harvey allowed in his last start was the first time he had allowed double-digit hits in a game in his big league career.