It's possible that no matter how Kansas City Royals designated hitter and occasional first baseman Billy Butler performs the rest of this somewhat disappointing season, most fantasy owners will be avoiding him in the first 10 rounds of 2014 drafts. After all, despite his three hits Monday, which pushed his batting average to a solid .295 this season, Butler hasn't flashed much power, and the 29 home runs and 107 RBIs from 2012 were a large reason why he was the 40th pick in ESPN average live drafts this year. Butler's home run Monday was merely his 13th of the season, and he has 66 RBIs in 130 games.
Then again, Butler really shouldn't be undervalued. This is not a bad season by any means, not with a guy hitting .295 and playing every day. There should be a top-100 spot reserved for hitters like Butler and Boston Red Sox designated hitter David Ortiz, guys who always hit.
How much value -- or lack thereof -- should be placed on hitters who don't play a regular position, the guys who tie up a DH or utility spot, early in drafts? Butler has played only six games at first base in 2013, making him DH-only for 2014. But he's so safe in batting average and contributes some power -- he's not Juan Pierre, after all -- that there remains value.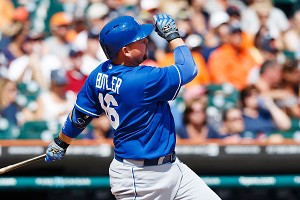 Rick Osentoski/USA TODAY Sports
Billy Butler is hitting .350 since the All-Star break.