Several veterans that used to be varying levels of proficient in fantasy baseball were traded this weekend (just before the deadline to make them eligible for their new teams in postseason play). Among them are Justin Morneau (Pittsburgh Pirates), Michael Morse (Baltimore Orioles), Jason Kubel (Cleveland Indians), Michael Young (Los Angeles Dodgers) and John Axford (St. Louis Cardinals). Let's take a look at whether these guys are interesting pickups in fantasy for the final month:
• Morneau was hitless in three at-bats Monday. It's debatable whether he's much of an upgrade over his former Minnesota Twins teammate Garrett Jones at first base, but he'll play regularly against right-handers. Morneau hit only .250 in August, but added nine home runs. He's a must-add in NL-only formats for his run-producing potential, but I don't think his value rises in mixed formats. One could make a better case for his new teammate Marlon Byrd, who hit one lineup spot ahead of him on Monday.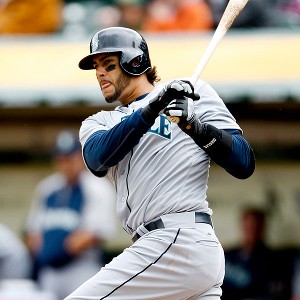 Michael Zagaris/Oakland Athletics/Getty Images
Mike Morse was gangbusters for the Mariners early this season, but has slowed considerably since then.
• Morse hit a pair of singles in Sunday's game at Yankee Stadium, then sat Monday in Cleveland against right-hander Justin Masterson. Morse has had a miserable, injury-filled season, but he certainly possesses legit power, smacking six home runs in the first nine games of the season. He has seven in four-plus months since. Look for him to play mainly against lefty pitchers. I'd take Byrd and Morneau over Morse.
• Kubel bats left-handed, but still wasn't in Monday's lineup against Orioles right-hander Bud Norris. Kubel hit 30 home runs a season ago, but as with Morse, injuries have played a role in him hitting a mere five all season. Kubel played Sunday in Detroit, hitting a single and drawing a walk, but he's a poor outfielder, which is why Drew Stubbs is not likely to lose playing time in right field. Kubel would figure to play over designated hitter Jason Giambi, though. There's some September upside here.
• Young does not seem to be a great fit for the Dodgers, as incumbent third baseman Juan Uribe has been competent and first base is capably occupied by Adrian Gonzalez. Uribe hit three singles at Coors Field on Monday, and while he has little power and hasn't drawn more than five walks in a month since April, he hit .292 in August and is defensively proficient. Young, well, he's similar, except for the defense part. Young shouldn't be owned in standard leagues.
• Axford saved 46 games in 2011 and 35 more last year, but he lost the job along the way and doesn't own a single save in 2013. That's right, more than 100 pitchers have saved a game this season, including Brett Anderson, Jeurys Familia and seven different Houston Astros, but not Axford. He has no value behind Edward Mujica and Trevor Rosenthal in St. Louis.
Box score bits (NL): Pirates right-hander Charlie Morton continued his winning ways Monday, allowing two runs (one earned) in seven innings to beat the Milwaukee Brewers. Morton posted a 2.68 ERA in August, so while he's not a big strikeout guy, he's pitching well enough to own in any format now. … Atlanta Braves outfielder Jordan Schafer continues to run wild of late, with three more stolen bases Monday. Schafer also left early because of a lower back strain, but the Braves were way up at the time. Schafer has three multi-steal games in the past week alone. … Something's up with Cardinals right-hander Adam Wainwright, as he permitted 10 hits and six runs Monday after allowing nine runs over two innings to the same Cincinnati Reds in his previous outing. Don't overthink this and sit Wainwright, as he should remain active when he faces the Pirates next. … Dodgers great Yasiel Puig left Monday's game with a strained right knee, and while he's likely to sit Tuesday, this doesn't appear a major problem. … The Mets signed Aaron Harang on Monday. If you even think about signing him in your NL-only league, just give up now.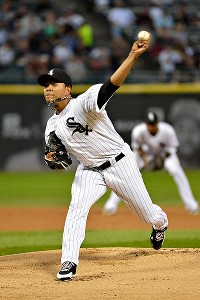 Brian Kersey/Getty Images
Jose Quintana has 29 strikeouts in his past 27 1/3 innings.
Box score bits (AL): If you owned Chicago White Sox lefty Jose Quintana and thought he left his Monday start after an inning due to injury, don't fret. A long rain delay was the reason, and it affected Yankees right-hander Phil Hughes as well. Quintana, who has pitched well, should start again in a few days. … Indians right-hander Justin Masterson might not, though. He left Monday's outing with a strained rib cage and has an MRI pending. Don't count on him for this coming weekend. … Astros shortstop Jonathan Villar started running again Monday, with his 12th stolen base and sixth caught-stealing. Villar famously stole 10 bases in his first 15 Astros games, then stopped running for three weeks. Hopefully he's back on track now. … The Texas Rangers finally got designated hitter Lance Berkman back Monday; he went 0-for-4 in his first appearance in nearly two months. It's tough to expect much here, except in walks/OBP formats. … Twins first baseman/outfielder Chris Colabello smacked a pair of home runs Monday, including a ninth-inning grand slam. He was terrific at Triple-A Rochester (.352, 24 home runs), but even with opportunity, he hasn't hit much in the majors. Colabello should play regularly in September -- especially with Morneau gone -- but he entered Monday 1-for-23 with 13 strikeouts. Don't get too excited. … Keep an eye out for Oakland Athletics outfielder Michael Choice, a top hitting prospect who debuted Monday with a walk and run scored in three plate appearances. Choice hit .302 with 44 extra-base hits and 89 RBIs at Triple-A Sacramento. If he hits, he'll play. We'll surely have more on recently promoted prospects during the week.