One of the dangers of drafting in early February or choosing keepers in advance of spring training is that there remain some real-life free agents looking for work, and when they find it, it affects others. For instance, the recent signing of right-hander Bronson Arroyo likely pushes heralded Arizona Diamondbacks prospect Archie Bradley to the minors, the eventual signings of Nelson Cruz and Kendrys Morales will surely take someone's starting job and then there are the closers. Just last week the Seattle Mariners made the odd and seemingly unnecessary move of signing oft-erratic Fernando Rodney to a two-year deal.
Rodney will be 37 by Opening Day and is coming off an uneven season with the Tampa Bay Rays, walking twice as many hitters as many of the top closers and blowing eight saves, one off the league lead. Say all you want about his awesome 2012 campaign, but nobody expects that to be repeated. Meanwhile, Mariners right-hander Danny Farquhar fanned 12.8 hitters per nine innings and seemed perfectly capable of handling the ninth-inning duties for the team, just like he did in 2013. Now he'll be a top setup man, next in line behind a questionable closer. As you might have guessed, Farquhar was someone I liked, a nice sleeper for an owner like me who doesn't intend to select a top-10 closer. I don't intend to select Rodney, either.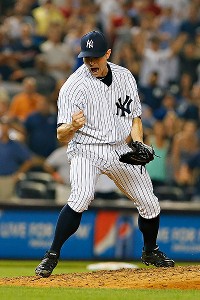 Mike Stobe/Getty Images
The Yankees' closer job is David Robertson's to lose.